5 Herbs to Sleep Better and Combat Insomnia
Trouble sleeping? You're not alone.Between 50 and 70 million adults in the U.S.alone suffer from lack of sleep and sleep disorders.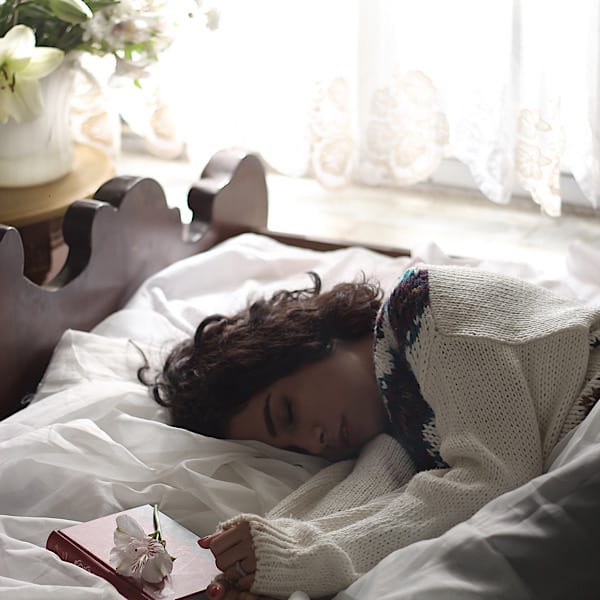 s.
The reasons vary: stress, overstimulation, adrenal burnout, or prescription drugs. Oftentimes taking medication to fall asleep can lead to next day drowsiness, weird side effects like sleep paralysis, or eventual tolerance to and dependence on that medication. Rest assured, herbs can come to your rescue! Herbs with sedative properties can help to ease you into sleep more gently and arguably more effectively than prescription sedatives. Be aware that insomnia or difficulty staying asleep can signify underlying health issues, so always make sure to consult a trusted practitioner to make sure you're not ignoring a root cause. Many of these herbs work best in combination with one another or other calming herbs. Look out for these familiar names in 'sleep' formulations. Perhaps one of the most well known sleep herbs, Valerian (Valeriana officinalis)is a wonderful ally for those suffering from insomnia. It is a sedative herb that's been used effectively for trouble falling asleep, as well as trouble staying asleep. It has also been shown to reduce instances of nighttime waking. Valerian has also been used to treat nervous system disorders and seems to have a regulating action on the autonomic nervous system. Some research suggests that Valerian may have a calming effect on agitated people but may also act as a stimulant in cases of fatigue–so a small portion of the population may find Valerian to have an energizing effect. Applied topically or taken internally, Valerian has been used successfully to relax muscle spasming and menstrual cramps. Look for it in tinctures like Deep Sleep! Hops (Humulus lupulus), a main flavoring agent in beer, is also a well known sedative herb.
The sleep-inducing properties of Hops were discovered thousands of years ago when European field workers kept nodding off while harvesting them–with a high resin content, the sedative effects can be absorbed through the skin. Like Cannabis, Hops are in the Cannabaceae family of plants and contain phytocannabinoids that interact with our own endocannabinoid system, which works to maintain homeostasis in the body. Hops was traditionally used for cases of insomnia in which the sleeplessness was due to nervousness or frazzled nerves. Hops helps to promote sound quality and lengthen duration of sleep, as well as having anti-inflammatory, antioxidant, and antibacterial properties. Studies have shown that Hops is most effective when combined with Valerian. Check out this Hit the Hay Sleep Support, containing Hops. Stay connected on special events, classes, and savings. 15% OFF YOUR FIRST PURCHASE One of the most common reasons for sleep deprivation or trouble falling asleep is pain. California Poppy (Eschscholzia californica) can alleviate both chronic and acute pain as well as induce sleep, due to its mild sedative action. California Poppy is a distant cousin to the Opium Poppy–however, California Poppy does not contain opioids and therefore presents no risk of opioid addiction. California Poppy is safe and gentle enough to use for children, and is especially indicated for chronic bedwetters. It's also been used to remedy depression and various psychiatric conditions; over-sensitivity to weather changes; long term emotional, mental, and physical exhaustion; and blood vessel constriction. Passionflower (Passiflora incarnata) is an ancient sleep-promoting herb, used for thousands of years by indigenous peoples of Central and South America for nervousness and mild sleeplessness. Specifically, Passionflower is indicated for individuals who experience insomnia due to racing, usually anxiety ridden thoughts, those who lay awake making mental To-Do lists, and those who feel as though they just cannot "shut their brains off." Passionflower can also be used to alleviate pain, cramping, arrhythmia and minor heart issues, premenstrual and menopausal anxiety and discomfort, and ADHD. Topically, it can be applied to the skin and helps to heal burns, irritation, and can treat painful hemorrhoids. Traditionally, Passionflower was made into a poultice to apply to painful boils and skin infections. This Jetlag Remedy Tincture contains Passionflower, and can be used for sleep support as well as jetlag! Kava (Piper methysticum), the national drink of Fiji, has been used ceremonially and socially for thousands of years in the Pacific Islands; a traditional brew is made from mixing the ground or chewed root with water. It has more recently become a popular alternative to alcohol in the Western world, as it imparts a calm, relaxing feeling throughout the body and is said to enhance communication and feelings of connection. Kava is another sedative herb, which also deeply relaxes the nervous and muscular systems, making it even easier to fall asleep. Used for physical symptoms like muscle spasming, cystitis, and urinary tract infections, Kava has analgesic or pain relieving properties, which adds to its effect of total physical tranquility. Kava has also been said to have dream enriching properties, so look forward to some vivid ones! Check out our Sleep Better Collection here! Micaela Foley is a certified herbalist with an educational background in energetic and clinical herbalism, alchemy, & medical astrology. She completed the clinical practitioner course at Blue Otter School of Herbal Medicine in Northern California and the foundational year program at ArborVitae School of Traditional Herbalism in New York City. Her herbal writings can be found through wellness resources like mindbodygreen, Shape magazine, & The Alchemist's Kitchen, where she previously managed the herbal program. Currently, she lives and farms in Rhode Island. Micaela's herbal practice is committed to social activism, accessibility, & empowerment through education and mutual aid. She is available for private sessions, clinical work, & as a teacher, writer, and consultant.
Read the full article at the original website
References: