5 Lessons Learned in 2021 About Our Shared Humanity and the Path Ahead
Human Rights Day – the anniversary of the 1948 adoption of the Universal Declaration of Human Rights – is a day to celebrate our shared humanity.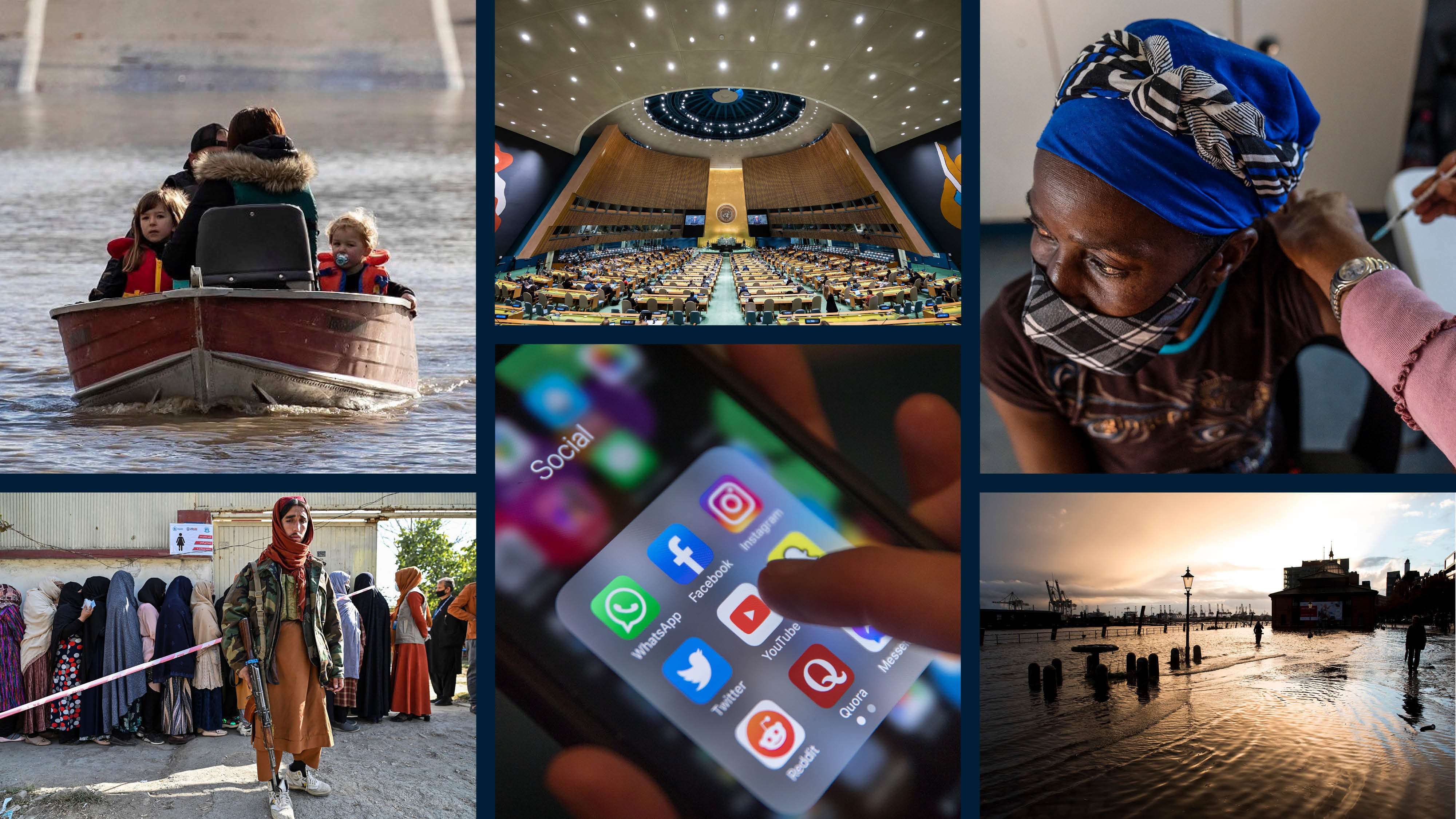 And the common thread to what we've learned this year is that every challenge to our health, security and future is grounded on threats to our common humanity. In turn, any effective response—whether to ensure we live in a pandemic-free world or to address gross violations from Xinjiang to Tigray—depends on collective, collaborative solutions. This is the heart of human rights work. This Human Rights Day we have the chance to reflect on five areas where we can make rights a reality as we emerge from another period of turmoil. 1.
The Wrath of Covid-19 Omicron, the latest "Variant of Concern," demonstrates the danger of severely unequal access to Covid-19 vaccines. Some of the world's richest countries including the EU, UK, and Switzerland, and pharmaceutical companies are undermining universal and equitable access to Covid-19 vaccines, testing and treatment by blocking a temporary waiver of global intellectual property and trade rules. To level the playing field, these governments should agree to the World Trade Organization waiver and transfer the technology needed to meet the urgent need to manufacture vaccines globally. Improving vaccine availability is critical but not enough. Even where vaccines are available, there can be understandable hesitancy to take them among marginalized and disenfranchised communities. Building trust by making health care—not just vaccines—truly accessible for everyone is a critical step in preventing illness and death from Covid-19. 2. Big Tech's Heavy Hand Big Tech's heavy hand around the world– in some places it is even more powerful and less accountable than governments – is dangerous since its bottom line depends on collecting massive amounts of our data, creating detailed profiles about us, capturing our attention, and selling insights from those profiles to advertisers and other third parties.
The inconvenient truth is that tech business models are often at odds with human rights, with high collateral damage. This year's attack on the US Capitol was a sobering look at social media's corrosive potential as a conduit and magnifier of misinformation that can, in some instances, lead to violence. This isn't news to the rest of the world – from Myanmar's Rohingya crisis to the anti-Muslim violence in India – but this time it happened in the home of most Big Tech companies.
These platforms' efforts to tackle the harm stemming from their services have fallen short. To live up to their human rights responsibilities, companies should conduct human rights due diligence for their operations globally.
They should invest in moderating content proportionate to their user bases and responsive to human rights risks wherever people use their platforms. Platforms should also be more transparent about the algorithms that shape what people see on their sites.
They should address the role the algorithms play in directing users toward harmful misinformation and give users more agency to shape their online experiences. It seems unlikely that companies will depart from their abusive business models voluntarily, which is why strong data protection regulations are necessary. 3. Backlash Against Women's Rights Despite important achievements by a global women's movement that is more connected than ever before, women's rights are facing a powerful backlash in an alarming number of countries. In Afghanistan, after the Taliban returned to power on August 15, women and girls are being denied access to education, paid employment, political representation, and even the ability to walk down the street alone. In the United States, 65 million women are at risk of losing the right to access abortion. Activists in Poland have been threatened due to their work for or perceived support of women's rights issues. In Iran and China, the authorities are using new laws and policies to limit women's reproductive health choices. It is not all bad news, though. From Argentina to Mexico to South Korea and Thailand, women have been gaining recognition of their human rights to access reproductive health care. Pregnant girls in Tanzania regained their right to stay in school. While 2021 taught us that these hard-won rights victories need to be protected, advanced, and secured, 2022 is a chance to put pressure on governments to pass laws to protect women's rights and enhance their safety, to provide adequate resources for services, and to make sure they are accessible to all women. 4.
The Power of Solidarity Beijing's "strike hard" campaign in China's Xinjiang region, President Rodrigo Duterte's nefarious "drug war" in the Philippines, the Myanmar junta's brutal crackdown on peaceful anti-coup protesters, atrocities in Ethiopia's expanding Tigray conflict.
These situations show that the authorities are adept at using instruments at their disposal – whether laws on the books, security forces, or both – to commit massive crimes against the population, including crimes against humanity. Each of these situations, and the responses to them, offer important lessons for 2022. First, ignoring abuses only makes them worse.
The generals behind Myanmar's coup had already unleashed their brutality on the Rohingya in 2017 and other ethnic minorities over decades, and faced few consequences, emboldening them to use force to maintain their grip on power. Second, as the flawed domestic justice efforts in the Philippines and Ethiopia have shown, governments cannot be trusted to hold themselves to account, which is why it's critical to establish credible UN mechanisms to collect and preserve evidence of violations so that victims can one day see justice realized. Third, rights-respecting governments are more powerful when they stand together for human rights as the growing alarm around Beijing's abusive policies in Xinjiang has shown. We need to build on this solidarity. 5. Confronting the Climate Crisis The climate crisis is taking a mounting toll on the lives, health, and livelihoods of people around the globe. And, as we've seen this past year with devastating floods in Germany and the United States and deadly heat waves in Canada and Pakistan, governments are failing to protect at-risk populations from the foreseeable harm of climate change.
Their recent pledges of more ambitious action to reducing greenhouse gas emissions still fall well short of what's needed to avert the most catastrophic outcomes of global warming. Fortunately, there have been some important victories this year, thanks largely to concerted pressure by environmental and human rights groups around the globe. In October, the UN Human Rights Council recognized the right to a clean, healthy and sustainable environment and created a special rapporteur on human rights and climate change.
These positive steps will help increase accountability for the insufficient government action to address the climate crisis. Governments need to recognize and learn from the extensive know-how of local communities and civil society groups to address the impacts of climate change with equity. And, above all, they need to heed the calls of climate activists to drastically ramp up efforts to reduce greenhouse gas emissions before it's too late. Human Rights Day 2021 isn't a day to lament the losses or fear what may come – it is a call to action. It is a reminder that the hard-won fights of the past need to be protected and advanced and that human rights for all requires action from governments and international bodies. But it also highlights that protecting our human rights is driven by human rights activists and defenders in every corner of globe.
Read the full article at the original website
References: