Belt and Road Capture: Chinese State Oil Giant Moves into Sri Lanka for 20 Years
The Chinese state-run Sinopec oil company signed a deal on Monday with the government of Sri Lanka that will allow it to conduct operations in the impoverished island nation for the next 20 years.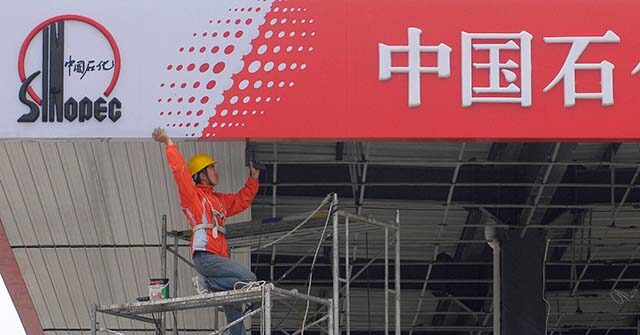 The Chinese state propaganda outlet Global Times reported on Tuesday that the deal will allow Sinopec to "import, store, distribute, and sell petroleum products" nationwide. Sinopec will have access to 150 existing fuel stations for gasoline and diesel and, in the long term of the contract, have the right to build 50 more.
The company must begin operations within 50 days of Monday. Sri Lanka is one of the world's most financially challenged nations as a result of its crippling debt, exacerbated by its entry into China's Belt and Road Initiative (BRI). Once heavily dependent on Chinese tourism, Sri Lanka lost a critical source of revenue during the Communist Party's onerous lockdowns at home, a response to the Wuhan coronavirus pandemic that began in early 2020 and only formally concluded in December as a result of nationwide protests in China. Socialist mismanagement and the predatory nature of its BRI loans had already begun devastating Sri Lanka prior to the pandemic-led collapse of its economy in mid-2022, however. Critically, in 2017, the Sri Lankan government was forced to hand over control of its critical Hambantota port to China. In 2021, Colombo discovered that the deal it had signed gave China control of the port for nearly 200 years, not only the 99 years it had believed the deal would originally run for. Technicians work at China Petroleum and Chemical Corp (Sinopec) Fuling shale gas field on October 8, 2021 in Chongqing, China. (Luo Bin/VCG via Getty Images) Other BRI projects have stalled, the Sri Lankan Daily Mirror reported on Tuesday, due to a "lack of any serious enthusiasm at the Colombo end and the absence of committed, knowledgeable and goal-oriented bureaucrats for a long period to undertake follow-up action," according to unnamed sources.
The newspaper said its sources described Chinese businessmen as frustrated by suspicions that local Sri Lankan officials want bribes to complete the BRI projects. Current President Ranil Wickremesinghe, then the prime minister, announced in June 2022 that Sri Lanka's economy had "completely collapsed." "We are now facing a far more serious situation beyond the mere shortages of fuel, gas, electricity and food. Our economy has completely collapsed," Wickremesinghe proclaimed in an address to Parliament. "That is the most serious issue before us today." Sri Lanka ran out of foreign currency to use to buy these basic needs, leaving citizens with no access to basic food goods, medicine, or gasoline last year. Foreign companies refused to accept Sri Lanka's practically defunct currency. As Sri Lanka is a socialist government, no private enterprises were equipped to fill the void left when the government ran out of money to import these goods. Colombo instead imposed rations, resulting in hours-long lines for the little gasoline and diesel available in the country. Multiple people died waiting for gasoline on those lines, exhausted by heat and thirst. To address fuel shortages, the Wickremesinghe government announced it would end restrictions on international oil companies operating in the country. Prior to this change, only Sri Lanka's state-owned companies, Ceylon Petroleum Corporation (CPC) and Lanka Indian Oil Company (LIOC), could process and sell petroleum fuels in the country. As state entities, these companies, too, did not have enough foreign currency to In April, the government announced it would begin the process of welcoming oil companies from Australia, China, and America into Sri Lanka's markets, opening the way for Sinopec.
The Chinese Global Times noted in its coverage of the Sinopec deal that allowing foreign oil companies to operate within Sri Lanka's socialist structure naturally injects foreign currency into the country, override the Sri Lankan government's lack of access to foreign currencies and thus, foreign markets. "Sinopec is a state-owned enterprise in China, which has great advantages in oil resource allocation, infrastructure and financial support," a Chinese regime-approved "expert" told the Global Times. "As the company is able to use its own funds for fuel procurement, the entry into the Sri Lankan oil market will safeguard local oil supplies and alleviate Sri Lanka's foreign exchange challenges." Sinopec got their first, but talks reportedly continue with other corporations. In late April, the Daily Mirror reported that Power and Energy Minister Kanchana Wijesekera announced talks with Australia's United Petroleum for business in the country.
The American corporation Shell is also reportedly working on plans to sell its oil in Sri Lanka. Dire as the foreign currency situation remains, then-President Gotabaya Rajapaksa fleeing the country in July and leaving longtime establishment fixture Wickremesinghe in power has modestly improved the economic landscape. Rajapaksa, one of nearly two dozen members of his family holding government positions as recently as two years ago, fled after angry mobs began burning down the homes of senior government officials – including Wickremesinghe's home and that of Rajapaksa's brother, former President Mahinda Rajapaksa.
The mob attacks concluded with throngs occupying the presidential estate and throwing a pool party. Following Rajapaksa, Wickremesinghe moved to crush protests using the Sri Lankan military and convince international financial institutions to bail Sri Lanka out. In March, the International Monetary Fund (IMF) agreed to give Sri Lanka a $3 billion loan, contingent on Sri Lanka restructuring its debt.
The IMF sent a team to the country this week on a mission to assess the current financial situation. "Achieving timely restructuring agreements with creditors in line with the program targets by the time of the first review is essential to restoring debt sustainability," the IMF said in a statement following the conclusion of its mission to Sri Lanka. "Keeping up the reform momentum and ensuring timely implementation of program commitments, including to ensure central bank independence, improve governance, and protect the vulnerable, are key for Sri Lanka to emerge from the economic crisis". "Exactly a year ago, Sri Lanka was in the midst of an economic cum political crisis with an unprecedented foreign exchange slump having resulted in miles-long, days-long queues for fuel and cooking gas and prices having gone three-fold up, compared to that of the previous year," the Daily Mirror noted in an editorial in early May. "However, there are no such queues now, no agitations by farmers in rural areas nor any other group in the streets of urban areas." "Does it mean that Sri Lanka is now out of the woods?" the newspaper asked, concluding grimly, "Very clear, we are not out of the woods. We are not repaying our debts, nor spending foreign exchange for imports as we did earlier in order to save it for immediate and more essential needs." Follow Frances Martel on Facebook and Twitter. .
Read the full article at the original website
References: