BlackRock Chief Larry Fink's Latest Letter Shies Away from ESG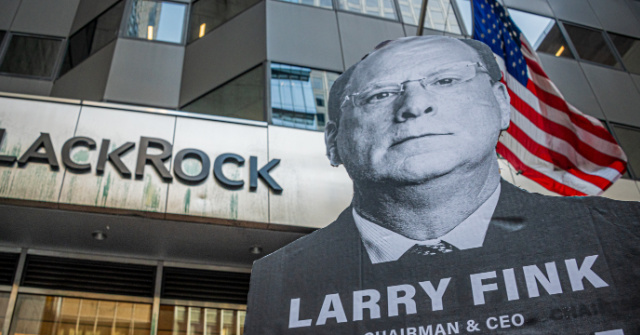 As the political backlash increased with the anti-ESG movement, BlackRock CEO Larry Fink appeared to have taken a different approach in his annual letter to investors regarding environmental, social, and governance investing. Despite the world's largest asset manager proudly pushing the leftist ESG investing policies as the practice of sustainable investing, Fink did not use the acronym ESG once in his letter. In fact, BlackRock's CEO pushed the idea that the asset manager wants it to be the investor's own choice concerning sustainable investing and the energy transition: Many of our clients also want access to data to ensure that material sustainability risk factors that could impact long-term asset returns are incorporated into their investment decisions. This is why we partner with other companies and provide insights into how a changing climate and the transition may affect portfolios over the long term. [...] Government policy, technological innovation, and consumer preferences will ultimately determine the pace and scale of decarbonization. Our job is to think through and model different scenarios to understand implications for our clients' portfolios. That's why BlackRock has been so vocal in recent years in advocating for disclosures and asking questions about how companies plan to navigate the energy transition. As minority shareholders, it's not our place to be telling companies what to do. My letters to CEOs are written with a single goal: to ensure companies are going to generate durable, long-term investment returns for our clients. [Emphasis added.] Fink also alleged that the asset managers' clients "want our help to understand the likely future paths of carbon emissions" and "how government policy will impact these paths, and what that means in terms of investment risks and opportunities." Additionally, after being at the head of the company that pushes such ideas, he claimed, "It is not the role of an asset manager like BlackRock to engineer a particular outcome in the economy" or act as the "environmental police." As Breitbart News has noted in the past, ESG policies are a form of leftist activism in financial investing that has become the latest vector to influence the way Wall Street financial firms and corporations continue to take social and political positions that do not relate to their business, such as stances associated with climate change, as well as the Diversity, Equity, and Inclusion (DEI) agenda. Fink's letter comes as politicians, especially state treasurers, have taken aim at the ESG policy movement. Throughout the last year, state treasurers have focused on educating Americans on the dangers of ESG policies.
They have blacklisted numerous asset managers who push ESG rules in investing, such as BlackRock. In fact, multiple states have pulled out billions of dollars of state pension funds from asset managers who push such investing strategies. This also comes as Congress passed the resolution to scrap President Joe Biden's ESG rule, which he would likely veto.
The rule, put in place by his Labor Department, enabled fund managers to prioritize ESG initiatives, a form of leftist activism, in financial investing — a rollback of a rule made under former President Donald Trump. Jacob Bliss is a reporter for Breitbart News. Write to him at jbliss@breitbart.com or follow him on Twitter @JacobMBliss.
Read the full article at the original website
References: