Buck Introduces Bill to Stop Public Funds from Making ESG Investments
Rep.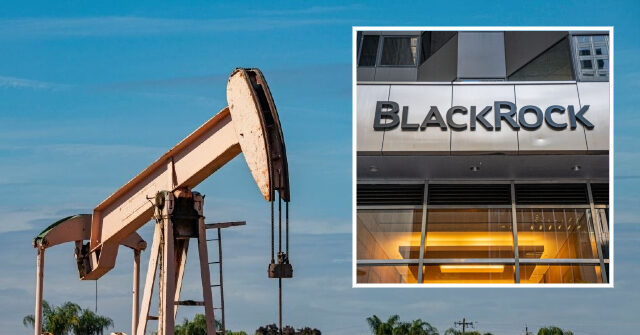 Ken Buck (R-CO) introduced legislation on Wednesday aimed at preventing taxpayer dollars in the Thrift Saving Funds (TSP) from being invested to advance left-wing agenda ideas such as environment, social, and governance (ESG), and Diversity, Equity, and Inclusion (DEI).
The legislation, Stop TSP ESG Act, if enacted, would prevent TSP from being able to contract out its corporate voting power to "woke hedge funds," such as BlackRock, and would grant more power to the individual investors who pay into the fund.
The Federal Retirement Thrift Investment Board oversees the TSP, which is offered to U.S. government employees to save for retirement. Currently, it contracts BlackRock to manage its funds, essentially giving it authority to push any type of investing the asset manager wants. BlackRock is the world's largest asset manager and proudly pushes ESG investing. As Breitbart News has described in the past, ESG investing is a form of leftist activism in the financial sector used to influence the way Wall Street financial firms and corporations, such as BlackRock, continue to take social and political positions that do not relate to their business, much like stances associated with climate change, as well as the DEI agenda. In fact, BlackRock CEO Larry Fink best described the ESG movement in 2019 when he wrote, "Society is increasingly looking to companies, both public and private, to address pressing social and economic issues.
These issues range from protecting the environment to retirement to gender and racial inequality." And in another instance, Fink also stated that "behaviors are going to have to change" with companies, and BlackRock sometimes has to "force behaviors." "For years, BlackRock has been leveraging taxpayer money to force unwilling businesses to accept ESG and DEI policies," Buck stated. "Through its position as the manager of the federal Thrift Savings Plan, BlackRock has abused public capital to push a radical agenda and censor conservative media." The bill is also cosponsored by Reps. Stephanie Bice (R-OK), Andy Biggs (R-AZ), Dan Bishop (R-NC), Lauren Boebert (R-CO), Eric Burlison (R-MO), Ben Cline (R-VA), Paul Gosar (R-AZ), Glenn Grothman (R-WI), Nancy Mace (R-SC), Carol Miller (R-IL), Alex Mooney (R-WV), Troy Nehls (R-TX), Ralph Norman (R-SC), Keith Self (R-TX), Pete Sessions (R-TX), Randy Weber (R-TX), and Bruce Westerman (R-AR). Additionally, the legislation has already gotten the backing from Republican-leaning nonprofits Consumers' Research and Concerned Women for America. "Woke Wall Street has been using the federal Thrift Savings Plan to force a radical left-wing agenda on the country. That's a violation of their fiduciary duty and the basic precepts of democracy," Consumers' Research executive director Will Hild said. "Policy should be made in Congress, not BlackRock's C-Suite." "The Stop TSP ESG Act is an important step in stopping the radical ESG agenda by protecting TSP account holders," said Penny Nance, the CEO and President of Concerned Women for America Legislative Action Committee. "BlackRock CEO Larry Fink admits to 'forcing behaviors.' Shareholders may be unknowingly supporting companies that disparage their values as proxy voting decisions are made by these radicals. Thank you, Rep. Buck, for introducing this legislation," Nance added. Jacob Bliss is a reporter for Breitbart News. Write to him at jbliss@breitbart.com or follow him on Twitter @JacobMBliss.
Read the full article at the original website
References: