China Promises Fretting Foreign Investors It Will Stay Open for Business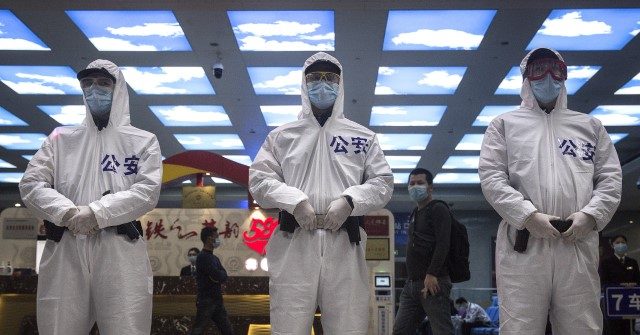 Speaking at the annual China Development Forum in Beijing on Monday, Premier Li Qiang promised a gathering of international businessmen that China will not employ its economy-killing "zero COVID" lockdown strategy again. Li pledged that from now on, China will stay open for business, "no matter what happens." "We will align with international economic and trade rules that are of very high standards, expand our opening-up in a steady and systematic way, and strive to create a first-class business environment that is market-oriented, rule-of-law- based, and internationalized," Li said. "No matter how the international situation changes, China will unswervingly keep expanding our opening up," he vowed. Li's comments were remarkable given how fiercely the Chinese Communist Party was determined to keep its supposedly flawless "zero COVID" policy in place forever just a few months ago.
The policy was supposedly formulated by super-genius dictator Xi Jinping himself, so criticism of the lockdowns was portrayed as an act of disloyalty to the supreme leader. Xi's regime signaled in the spring of 2022 that "zero COVID" policies could be in place forever, with only minor adjustments. In June 2022, top Communist Party executive Cai Qi said Beijing might keep the policy going "for the next five years" – and his quote was immediately scrubbed by censors, not because the public groaned at the thought of enduring lockdowns for five more years, but because Cai suggested the lockdowns might end someday.
The Party line was that "zero COVID" was perfect and eternal, a policy that could continue indefinitely with a few small adjustments made now and then by all-knowing Communist bureaucrats. Chinese officials and state media ridiculed other countries for not following China's lead and locking down entire cities to control coronavirus outbreaks and other diseases.
The first cracks in the Chinese Communist Party's devotion to Xi's lockdown policy appeared in November 2022, when a few officials from the National Health Commission grudgingly admitted that some "zero COVID" policies might have been "overly strict" – a very mild criticism of a policy that left people screaming in despair from the upper balconies of the apartment buildings they had been locked into.
The dam broke in November when protests against lockdowns swept China, a movement that quickly became so massive that not even Beijing's vast armies of enforcers and Internet censors could suppress it. Analysts speculated the outburst of public anger could be serious enough to threaten Xi's grip on power, scarcely a month after the dictator secured an unprecedented third term in office. Protesters shout slogans during a protest against Chinas strict zero COVID measures on November 28, 2022 in Beijing, China. (Photo by Kevin Frayer/Getty Images) "Zero COVID" was junked very suddenly in December, with no allowances made for transitioning or controlling the wave of omicron variant infections that was raging across China at the time.
The change was so abrupt, and the resulting body count from the omicron wave so severe, that onlookers wondered if the Chinese Communist Party was petulantly consigning its subjects to doom for hurting Xi's feelings by questioning his policies. Li promising China's international customers and investors that "zero COVID" will never return was the remarkable capstone to a strange totalitarian political saga. Li was the most likely choice to deliver the message. Before he was tapped to become premier in March, Li was the Communist Party chief of Shanghai, scene of perhaps the most brutal and damaging lockdown of the pandemic in mid-2022. Shanghai's status as an international financial hub meant there were plenty of foreign witnesses to its lockdown horrors, and the economic damage from shuttering the city was particularly acute. "Stop asking me why.
There is no why," a lockdown enforcer clad in the trademark white hazmat suit snapped at Shanghai residents in a video that became a viral sensation around the world, giving "zero COVID" an unfortunate and unforgettable catchphrase. Li caught some of the public's ire for presiding over Shanghai's lockdown and his ascension to premier was seen as a message from the Communist Party that "zero COVID" would last forever, no matter how angry the public became – but Li was also castigated for attempting a "soft" approach that would keep Shanghai's vital industrial and financial districts running as smoothly as possible. Li managed to make it out of Shanghai with both his loyalty to Xi and his business-friendly reputation intact. He became the first Chinese premier to take the office without any previous experience serving in the central government. His most important resume bullet point was three years serving as Xi Jinping's chief of staff when Xi was a provincial Communist Party secretary, which sent a message about how tightly Xi would be controlling the bureaucracy. On his way to the premier's office, Li spent a few months as head of the Chinese Communist Party's coronavirus task force and was running that office when the loosening of "zero COVID" began in November. Sources within the Party said Li insisted on a swift "reopening" schedule even after Xi had second thoughts in the face of the fall omicron wave and personally lobbied local officials to continue their glide out of lockdowns. (AP Photo/Andy Wong, File) Now that China is supposedly open for business again, Li appears to be in charge of convincing nervous foreign executives to return. He is expected to reprise his "open no matter what" message at the Boao Forum in Hainan when it begins on March 30. Li's audience at the China Development Forum included chief executives from companies like Apple and Pfizer, while the Boao Forum guest list will include high-ranking government officials from Singapore, Malaysia, and Spain. Li's rolling out of the red carpet includes both explicit pledges to avoid lockdowns and more subtle assurances that China's "sharp turn towards national security and state-led development under Xi" will not interfere with foreign business activities, as Al Jazeera News put it on Tuesday. Li was reportedly the official who invited exiled Alibaba founder Jack Ma to return to China for a high-profile visit last week, a move that seems intended to reassure both Chinese tech moguls and foreigners that lockdowns and crackdowns are over for the time being. Some observers of Ma's surprising return thought Li needed him in China more than Ma wanted to be there.
Read the full article at the original website
References: