Conservatives to Speaker Kevin McCarthy: 'Hold the Line' on Debt Ceiling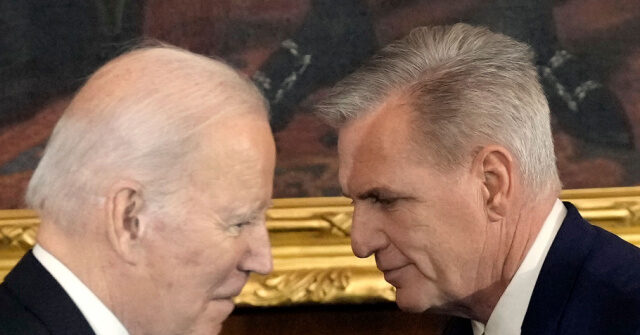 WASHINGTON, DC – Republicans in the House are rallying behind Speaker Kevin McCarthy in his negotiations with President Joe Biden over the debt ceiling, as conservative leaders are circulating a memo encouraging McCarthy to "hold the line" on critically important spending reforms as the essential core of any deal with the White House. Rep. Chip Roy (R-TX) – a leading House conservative – circulated a memo to his GOP colleagues on Wednesday outlining the popularity of the major spending reforms in Speaker McCarthy's debt ceiling plan, undoing the attempted gaslighting of congressional Republicans by sharing the polling data associated with key spending reductions showing that a majority of Americans support lowering spending to 2022 levels or below. Conservative leaders nationwide reviewing that material are now circulating a memo of their own showcasing the highlights of that "Dear Colleague" congressional memo, gathering signatures from policy and opinion leaders nationwide to reinforce the GOP's confidence in both chambers that the majority of Americans stand with them on these demands for fiscal sanity, with a final memo to be released late Wednesday.
The memo begins by saying that the "House-passed Limit, Save, Grow Act is not perfect," adding that the signatories "would prefer to go back to the 2019 pre-Covid baseline of spending," but praising the McCarthy-led legislation as "a good first step forward in restoring America's financial stability and economic prosperity." The memo then highlights key spending reforms in the package: "Recent polling data shows that 60 percent of Americans support spending reductions as a condition for raising the debt ceiling with another 15 percent opposed to raising the debt ceiling altogether," the memo continues, citing recent public opinion surveys. "We do not need to negotiate away these urgent reforms." Ambassador Ken Blackwell and Ed Corrigan, the chairman and vice chairman of the Conservative Action Project (CAP), are coordinating the effort getting national leaders to support the memo, which now includes former cabinet-level officials from multiple administrations as well as former members of Congress. "The salient takeaway of our nationwide discussions is that Republicans must hold the line," Chairman Blackwell exclusively tells Breitbart News. "The memo is embargoed until later today, but I can promise it's going to be huge in its impact." Breitbart News senior legal contributor Ken Klukowski is a lawyer who served in the White House and Justice Department.
Read the full article at the original website
References: