Democrats: Give Green Energy Jobs to Foreign Workers, Not Americans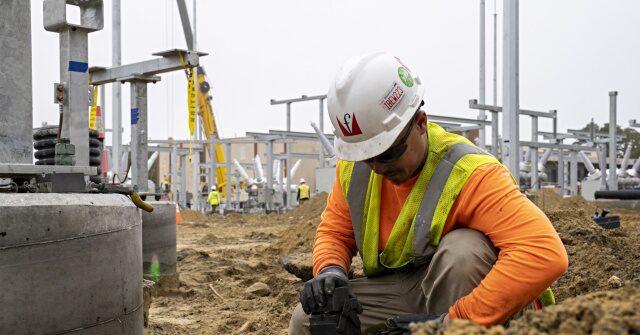 Elected Democrats are making a new pitch for more legal immigration to the United States, teaming up with big business to suggest that green energy jobs ought to be filled with foreign workers rather than Americans on the labor market sidelines. A number of mass migration lobbying groups, often corporate-funded, as well as Democrats told Politico that their latest venture includes pitching President Joe Biden's administration to increase legal immigration levels so as to funnel foreign workers into green energy jobs. "There's no question that addressing our broken immigration system in America would address many workforce shortages," Sen. Ben Ray Luján (D-NM) told Politico. "There's employment needed right now. Jobs are available." The nation's largest green energy companies serve as massive donors to elected Democrats, giving tens of thousands of campaign donations to the likes of Sens. Chuck Schumer (D-NY), Catherine Cortez Masto (D-NV), Ron Wyden (D-OR), Raphael Warnock (D-GA), and Joe Manchin (D-WV), among others. "The permits that ranchers use, agriculture, the permits that hospitality use — those same immigration permits are not the ones that are needed for people to have temporary work visas in the oil and gas sector," Rep. Marc Veasey (D-TX) told Politico. "You ain't unleashing a thing unless you do something about immigration reform." Already, the U.S. gives more than a million green cards to foreign nationals annually in addition to another million temporary work visas to foreign workers.
These historically-high, decades-long legal immigration levels are added on top of hundreds of thousands of border crossers and illegal aliens who are being added to the workforce every year after securing work permits. Millions of working- and middle-class Americans, Breitbart News reported, have struggled to re-enter the workforce since the Chinese coronavirus pandemic as the Biden administration has grown the economy by routing about two million foreign workers into American jobs since 2019. At the end of 2022, 1.9 million fewer Americans were working than in 2019 before the coronavirus pandemic while Biden's administration has funneled two million additional foreign workers into United States jobs. https://t.co/CgCmVHZ2eP — Breitbart News (@BreitbartNews) February 19, 2023 The Democrats, though, claim more foreign competition against these sidelined Americans in the U.S. labor market is necessary to fill semiconductor manufacturing openings and other high-paying middle-class jobs that typically offer good benefits packages. Among the suggestions from mass migration lobbyists and Democrats match those proposed by the U.S. Chamber of Commerce such as blowing open visa caps for the H-1B visa program, which is often used by corporations to outsource American jobs to lower-wage foreign workers primarily from India. Last month, Democrats pushed for a similar policy initiative — urging that businesses be allowed to import as many foreign workers as they claim to need, regardless of its impact on U.S. wages and jobs. Mass immigration has successfully forced down Americans' wages and also boosted rents and housing prices.
The inflow has also pushed many native-born Americans out of careers in a wide variety of business sectors and contributed to the rising death rate of poorer Americans.
The inflow also reduces the political clout of native-born Americans as it allows political and economic elites with power in Washington, DC, to divorce themselves from the needs and interests of working- and middle-class Americans. John Binder is a reporter for Breitbart News. Email him at jbinder@breitbart.com. Follow him on Twitter here.
Read the full article at the original website
References: