European Green Agenda Could 'Blow Up' Economy, Central Banker Warns
Europe's green agenda risks "blow up" the continent's economy if things do not change, the deputy leader of Italy's central bank has warned.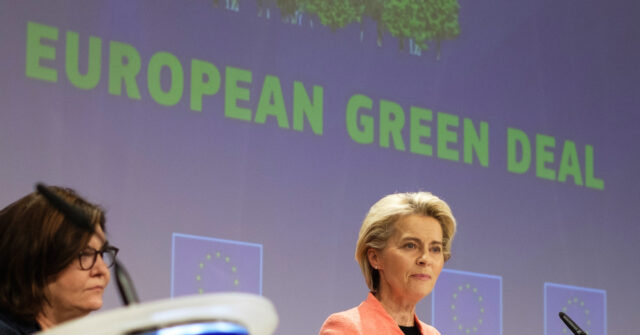 Paolo Angelini, the Deputy Governor of the Bank of Italy, has warned that EU green agenda targets are putting the bloc's economy at risk, warning that the whole thing could "blow up" if those in power are not careful.
The banker's comments come at a time when EU leaders are pushing green agenda measures harder and harder, despite the fact that they have resulted in substantial social and financial damage in the wake of the war in Ukraine. During an interview with POLITICO, Angelina emphasised that while he was a big supporter of the green transition, he worried that carbon emissions targets being set by various politicians and organisations were encouraging the implementation of quick and dirty fixes that only harm the continent in the long run. "If one bank drops a heavy emitter — say, a major oil company — in favour of lower emission-producing companies — say, a firm in the services sector, such as Big Tech — that is fine," the banker explained. "But if every financial intermediary adopts this strategy there will be problems, at least as long as people keep using cars and want to keep warm in winter and cool in the summer," he continued. "If everybody divests from high-emitting sectors there will be a problem because if the economy does not adjust at the same time, things could blow up unless a miracle happens in terms of new technology." "As soon as you announce targets, you want to deliver on them and, if you fall short of meeting them, you may start looking for shortcuts," he went on to say, adding that he would "personally drop the targets" in favour of investing in firms with larger, more comprehensive transition plans. EU Bans New Gas Powered Cars by 2035, But Germany Immediately Carves Out Exemptionhttps://t.co/yMHnrByn1a — Breitbart London (@BreitbartLondon) March 30, 2023 Ultimately, the crux of the deputy governor's argument was that immediate reductions in carbon emissions are not always feasible and that sometimes even an increase in fossil fuel use is needed for a transition to greener alternatives. Such an interpretation of facts does not appear to be understood by European lawmakers however, with a variety of officials both at the national and EU level refusing to abandon the hardline green agenda despite the damage it is doing to their economies. One major bloc-wide measure that many fear will cause havoc is the coming ban on combustion engines, with lawmakers agreeing to ban the sale of new fossil-fuel cars by 2035. Such a ban is likely to decimate the continent's automotive industry, with one-fifth of Germans afraid that such green agenda measures pushed by authorities will end up costing them their job. Dutch PM Vows to 'Accelerate' EU Green Agenda Despite Pro-Farmer Party Victory https://t.co/P1deEqkzwK — Breitbart London (@BreitbartLondon) April 7, 2023.
Read the full article at the original website
References: