Financial Officers Demand Chase Bank Stop Political De-Banking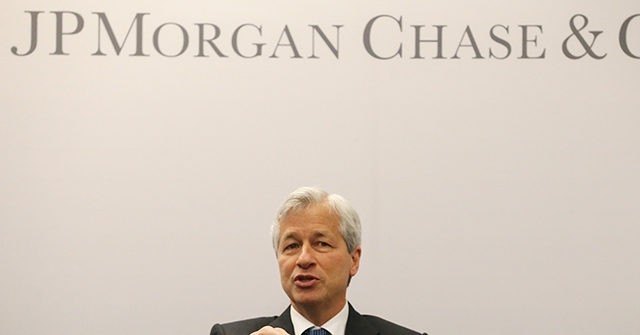 Fourteen state financial officers sent a letter to JPMorgan Chase's CEO demanding the company stop engaging in what appears to be "politically motivated" de-banking around certain industries, individuals, and groups. "We urge Chase to immediately take steps to identify and address internal drivers of political or anti-religious bias that could undermine its fiduciary obligations and impair the freedom of its customers to access financial services without fear of discrimination," the group wrote in the letter laying out that the bank has appeared to engage in politically motivated de-banking The state financial officers acknowledged in the letter that the bank remains a member of the Net-Zero Banking Alliance (NSBA), which is a group of banks that are "committed to dramatically reducing their carbon financing and investment activities," despite Chase's CEO, James Dimon, going before Congress and saying that defunding fossil fuels would be "the road to hell for America." The letter futher explained: ...The bank's apparent move to discriminate against politically disfavored industries is spilling over into its other activities. Recently, Chase closed the National Committee for Religious Freedom's (NCRF) account without explanation. After repeated requests to reinstate the account, Chase informed NCRF that it would only consider doing so if the non-profit agreed to disclose detailed information about its donors and the criteria used to decide which political candidates it supports. This is not the first time Chase has engaged in questionable incidents of de-banking. In 2021, WePay, a subsidiary of Chase, denied ticket payment processing services for a mainstream republican event hosted by the non-profit, Defense of Liberty. As justification, WePay cited a policy that barred payment processing services in connection with "hate . . . racial intolerance . . . or items or activities that encourage, promote, facilitate, or instruct others regarding the same." Such vague and ambiguous terms can easily be used to hide viewpoint-based discrimination.
There are other similar cancellation incidents that raise the specter of viewpoint bias. In 2021, Chase cancelled a credit card account connected to former general Michael Flynn for questionable reasons. That same year, Chase terminated the Arkansas Family Council's account because the organization was deemed "High Risk," even though they had done business with the bank for over two years.
The state financial officers stated that they are "concerned" about the company's recent pattern of "apparent politically motivated de-banking," which they believe is a breach of the bank's fiduciary duty due to it "sacrificing profitable investment opportunities (e.g., fossil fuels) for political reasons." Ultimately, state financial officers want Chase to take immediate steps to identify and stop the "internal drivers of political or anti-religious bias" that could "undermine its fiduciary obligations and impair the freedom of its customers to access financial services without fear of discrimination based on their political or religious views." The letter was signed by various state financial officers, including Treasurer John Murante, Alaska Commissioner of Revenue Adam Crum, Arkansas Auditor Dennis Milligan, Idaho Treasurer Julie Ellsworth, Indiana Treasurer Dan Elliott, Kansas Treasurer Steven Johnson, Mississippi Treasurer David McRae, Missouri Auditor Scott Fitzpatrick, Missouri Treasurer Vivek Malek, Nevada Controller Andy Matthews, North Dakota Treasurer Thomas Beadle, Oklahoma Treasurer Todd Russ, South Carolina Treasurer Curtis M. Loftis Jr., and Utah Treasurer Marlo Oaks. Letter to JP Morgan Chase by Breitbart News on Scribd (function() { var scribd = document.createElement("script"); scribd.type = "text/javascript"; scribd.async = true; scribd.src = "https://www.scribd.com/javascripts/embed_code/inject.js"; var s = document.getElementsByTagName("script")[0]; s.parentNode.insertBefore(scribd, s); })(); Jacob Bliss is a reporter for Breitbart News. Write to him at jbliss@breitbart.com or follow him on Twitter @JacobMBliss. Jacob Bliss is a reporter for Breitbart News. Write to him at jbliss@breitbart.com or follow him on Twitter @JacobMBliss.
Read the full article at the original website
References: