French Minister Under Fire After Writing Erotic Novel While in Office
Confusion, amusement, and dismay as France's minister for finance writes and publishes an erotic novel while still in office.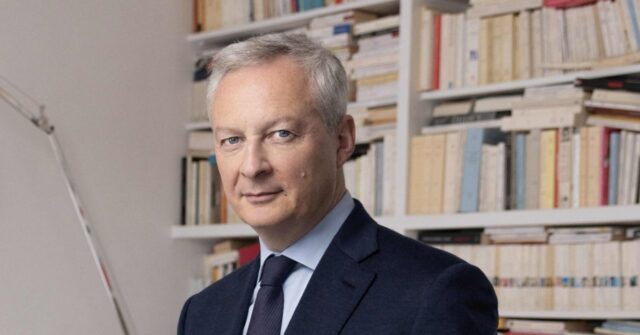 Bruno Le Maire, the minister for finance with Emmanuel Macron's French government, has sparked ridicule after writing and publishing an erotic novel while still in office. But he insists he couldn't do his job without the additional stimulation of writing raunchy fiction. Titled Fugue Americaine ('American Elopement'), minister for finance Bruno Le Maire's new book follows two European Jewish brothers on their travels in Havana, Cuba, in the wake of the Second World War, with the book containing a number of racy scenes that have taken French social media by storm. According to a report by the French edition of the Huffington Post, one passage, in particular, detailing an interaction between one of the brothers and his love interest, Julia, has drawn significant attention due to its almost comedically explicit nature. In the passage, Le Maire writes about Julia sexually teasing one of the brothers, before showing him "the brown bulge of her anus". Le ministre l'Économie Bruno Le Maire va sortir un nouveau roman, "Fugue américaine" : dans l'état où est la France, il n'a rien d'autre à foutre que d'écrire un livre que personne ne lira ! src : JDD pic.twitter.com/rfxXUT7q2a — Gilbert Collard (@GilbertCollard) April 24, 2023 "Are you coming Oskar? I'm dilated like never before," Le Maire has Julia telling the brother. While evoking amusement online, quite a number within the French political sphere are not laughing, instead querying how Le Maire has the time to write fantasy fiction while the French economy is in tatters. One rival MP, François Ruffin, said that the minister should not have "a minute, an hour, a week of his time to devote to writing a book" considering the state of inflation in France. Floundering President Macron Tries to Push Fear of Populist Le Pen Victory to Maintain Grip on Powerhttps://t.co/qgIn0YHyFB — Breitbart London (@BreitbartLondon) April 25, 2023 However, Le Maire himself has hit back at the suggestion he cannot work and write at the same time, going so far as to say it would be "impossible" for him to do his job without being able to write fiction. "I would have a feeling of confinement and shrinkage," he told Le Figaro. "If there were only politics without the freedom that literary and romantic creation gives, politics would not be enough." Le Maire is far from the only European minister to pick up the pen during his time in office either, with Iceland's Prime Minister even releasing her first crime thriller while still in office last year. It also looks like the minister's novel, racy moments aside, has been well received too, with one review published by Sud Ouest describing the book as "a melancholy crossing of the century, a very nice book", adding that throughout the book Le Maire writes "with impeccable romantic mastery". Still, the controversy is likely something that President Macron feels he could do without right now, especially considering one of his other ministers had only recently gotten in trouble over appearing on the front cover of Playboy magazine. French Minister Marlene Schiappa Appears on Front Cover of Playboy https://t.co/CmgvedIDJG — Breitbart London (@BreitbartLondon) April 3, 2023.
Read the full article at the original website
References: