Hearing Exposes 'Election Integrity Partnership' as Government Censorship Stooges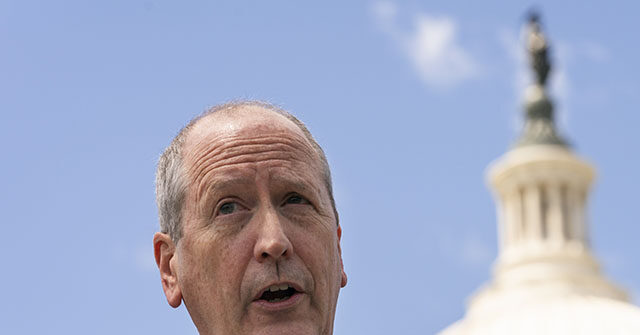 The Election Integrity Partnership (EIP), a consortium that played a critical role in censoring Americans during the 2020 and 2022 elections, took center stage in the House Homeland Security Committee's hearing on the government's "laundering" of censorship through NGOs and private entities.
The Committee focused on efforts by the Cybersecurity and Infrastructure Security Agency (CISA), a DHS agency, to co-ordinate with private sector institutions to censor Americans on social media.
The Election Integrity Partnership (EIP) is a consortium of four organizations: the Stanford Internet Observatory, the Atlantic Council's Digital Forensics Research Lab, the University of Washington's Center for an Informed Public.
The EIP, which was recently hit by a lawsuit from America First Legal over its alleged efforts to censor Americans, came under intense scrutiny during today's hearing. Committee chairman Rep. Dan Bishop (R-NC) played a video unearthed by the Foundation for Freedom Online, showing the Atlantic Council casually discussing the EIP's "partners in government... most particularly those in CISA/DHS." In October last year, Breitbart News reported on the consortium's efforts to build a reporting system for state actors during the 2020 election, allowing the deep state to flag posts on social media platforms for censorship, escalating them as priorities for the tech giants. Via Breitbart News: In the runup to the 2020 election, the consortium created a system whereby state actors including the Department of Homeland Security and the State Department could file "tickets" alongside news stories, flagging them so that Big Tech platforms could subsequently suppress or attach warning labels to them. Beyond this blatant case of a private-public censorship coalition, the EIP also engaged in partisan politics, allowing the Democratic National Committee to file tickets through the system, as well as the Democrat-aligned groups Common Cause and the NAACP. News outlets targeted by the EIP included Breitbart News, Fox News, the New York Post, and the Epoch Times, as well as the social media accounts of prominent conservatives Charlie Kirk, Tom Fitton, Jack Posobiec, Mark Levin, James O'Keefe, and Sean Hannity, amongst others. President Donald Trump was also frequently flagged by the consortium, as well as his sons Eric Trump and Donald Trump Jr.
The consortium boasted of the success of its efforts in a public report, stating that in 34 percent of cases where they flagged content to social media platforms, it was either labeled or removed. Investigative journalist Ben Weingarten, who testified before the committee, also noted the critical role played by the EIP in censoring American speech around the 2020 election, and how there was a "revolving door" between CISA and the EIP. "It seems to me that CISA understood that when it ran up against domestic speech, even though it appeared that domestic speech was captured in in its switchboarding efforts, it recognized that... it could be better done through outsourcing those efforts, but in close coordination with the government." "The Election Integrity Partnership – this is a consortium of four outside, non-governmental groups. Includes the Stanford Internet Observatory, the University of Washington's CIP, the Atlantic Council's DFR lab, as well as a company called Graphika. Many of these organizations have links and ties to government officials," noted Weingarten. "Essentially what CISA did, in conjunction with EIP, and according to EIP officials, with some interns who were both working at CISA while at the same time members of SIO, the Stanford Internet Observatory, was to create a platform to pass along purported mis-, dis-, and mal- information, for this platform to... collect and surveil tweets, to pressure social media companies to change their terms of service, and then flag for them specific instances of content they believed ran up against those flags, and consequently it led to, as shown, 20, 22 million tweets and such to be labeled misinformation." "Matt Masterson I believe was a top election official within CISA. He would end up becoming, maybe a non-resident fellow at the Stanford Internet Observatory.
There's sort of a revolving door here. Christopher Krebs as well, former director of CISA, ended up starting a consultancy with the head of SIO, Alex Stamos." "We can go through several other individuals on the outside as well, so non-CISA officials but officials or rather principals who were coordinated by CISA, worked with CISA, ended up on CISA's advisory committees and such. Those would include Kate Starbird at the University of Washington's CIP, as well, Renée DiResta, I believe within SIO was a research director, she had direct ties to CISA advisory committees as well. So there's a slew of people, and it's sort of a revolving door, and it starts to blur the line between 'public' and 'private.'" Allum Bokhari is the senior technology correspondent at Breitbart News. He is the author of #DELETED: Big Tech's Battle to Erase the Trump Movement and Steal The Election.
Read the full article at the original website
References: