In Serbia, Justice Gets an Early Release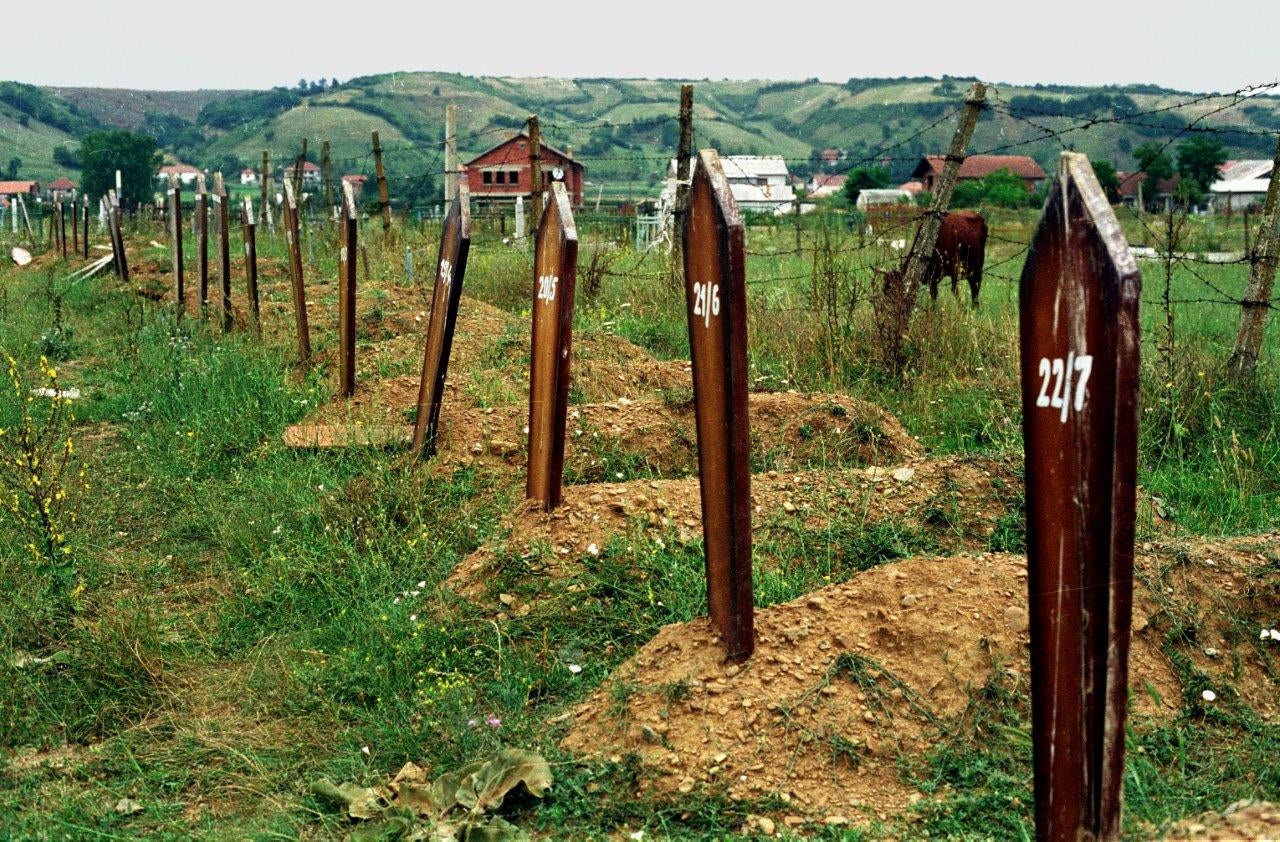 The release of the convicted war criminal Sreten Lukic and his return to Serbia highlights how the Belgrade authorities are still doing nothing to prosecute other high-ranking officials for wartime crimes in Kosovo and the subsequent cover-up. I saw him only once – in court. But I tracked the results of his work in bones and graves. Sreten Lukic, Serbia's head of police for Kosovo during the 1998-99 war, was granted early release from prison last month. He has returned to live in Serbia after serving two-thirds of a 20-year sentence for murder, persecution, deportation, and forcible transfer as crimes against humanity.
The UN war crimes tribunal in The Hague convicted him and four senior Serbian and Yugoslav officials in 2009 as part of a joint criminal enterprise. Lukic served as "the bridge between the policy-planners in Belgrade... and those on the ground in Kosovo," the release order said. He exercised de jure and de facto responsibility over Serbian police forces that "committed crimes on a massive scale," it added. My colleagues and I documented many of those appalling acts, which resulted from policy rather than rogue troops. I testified at the UN tribunal against Lukic and his cohorts, three of whom are also now free. War Crimes in Kosovo Download the full report in English Download the Report - Serbian Download the full report in Albanian The UN mechanism dealing with these cases set conditions for Lukic's release: he may not own a gun or visit Kosovo. He must notify the authorities when he wants to travel. Importantly, he is forbidden to speak with media or praise other convicted war criminals. That's a new and welcome constraint because others who were released early have been denying their crimes, impugning the UN tribunal, and extolling their wartime acts.
The Serbian government has welcomed these people back as heroes, glorifying their criminal acts. Former Deputy Prime Minister Nikola Sainovic, convicted together with Lukic, took a senior position in the ruling party.
The convicted former commander of Yugoslav Army forces in Kosovo, Vladimir Lazarivic, was hired to teach at the Serbian military academy. Domestic war crimes prosecutions in Serbia have slowed or ground to a halt, with cases of lower-level suspects dragging on for years. Survivors from Kosovo who agreed to testify have made multiple trips to Belgrade in vain.
The EU recently criticised Serbia for its "very weak track record in the processing of war crimes cases." In 1999, just after the war, Serbian forces transferred the bodies of nearly 1,000 Kosovo Albanians whom they had killed to mass graves at police compounds and other places in Serbia, but the government does little to find their remains, let alone hold anyone to account. One of those sites, a mass grave at an open-cast mine near the town of Raska in southern Serbia, was exhumed last year, the result of a joint effort between Serbia, Kosovo, the International Committee of the Red Cross and EULEX, the EU's justice and police mission in Kosovo. It revealed over a dozen victims, but prosecutors have not filed any indictments on the case.
The site lies about 10 kilometres from a quarry near Rudnica where Serbian authorities found the bodies of more than 40 Kosovo Albanians in 2014.
The man who may know the most about the body transfer operation, with corpses moved in refrigerator trucks, is the former Serbian police chief Vlastimir Djordjevic, Lukic's boss, who is serving an 18-year prison sentence in Germany after being convicted of, among other crimes, directing "the secret handling, transport and reburial of bodies." Djordjevic is also asking for early release. Two members of the nationalist Serbian Radical Party are wanted in The Hague for contempt of court, due to witness-tampering in the tribunal's case against their leader, Vojislav Seselj. Despite three reports of non-compliance to the UN Security Council, the Serbian government refuses to give them up.
The policy to shield suspects could change. Last month, Serbia presented a five-year plan for handling war crimes that recognises some of its deficiencies and offers some helpful steps, including expedited prosecutions and improved cooperation with neighbouring states. But promises come cheap. Belgrade can demonstrate a genuine shift by translating its plan into action with the necessary funding and political will. Unless Serbia truly investigates and prosecutes wartime abuses, justice will get an early release.
Read the full article at the original website
References: