iPaycut: Apple Slashes CEO Tim Cook's Pay by 40% After Shareholder Revolt
Apple has slashed CEO Tim Cook's pay by 40 percent following a recent shareholder vote questioning his massive compensation package.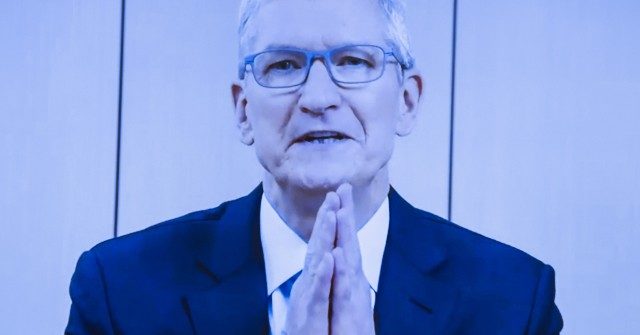 Cook's pay will be more closely tied to Apple's stock performance, which was weak in 2022. CNBC reports that according to a filing with the SEC, Apple CEO Tim Cook will receive a significant pay cut in 2023. According to the filing, Cook will receive $49 million in total compensation, which is $34 million less than the previous year. Apple CEO Tim Cook poses for a goofy selfie ( Justin Sullivan/Getty) Apple CEO Tim Cook waves as he arrives for the Economic Summit held for the China Development Forum in Beijing on March 23, 2019. (Photo by Ng Han Guan / POOL / AFP) (Photo credit should read NG HAN GUAN/AFP via Getty Images) The Apple compensation committee made up of Art Levinson, Al Gore, and Andrea Jung decided to lower Cook's compensation in response to a revolt by shareholders. According to the committee, the pay cut was in response to last year's say-on-pay vote, in which 64 percent of shareholders voted in favor of Cook's compensation. This is a significant drop compared to 2020 when 95 percent of shareholders approved Cook's compensation package. Apple's board commended Cook's performance and expressed confidence in the CEO's long-term strategic choices despite the pay cut. Cook made slightly less than $83 million in 2022 from stock awards, $12 million from incentives, and $3 million from salary. Additionally, he received benefits like security, personal air travel, retirement plan contributions, and a cash out of more than $46,000 for his vacation time. In keeping with a growing trend of increased pressure on executive compensation from institutional shareholders, Cook's pay package was reduced. At Apple's annual meeting the year before, Institutional Shareholder Services (ISS) advised shareholders to reject Cook's compensation.
The compensation committee claimed that it contacted institutional shareholders to get their feedback on Cook's pay and adjusted it as necessary.
The committee also disclosed that 75 percent of Cook's vesting shares will be based on Apple's stock performance in 2023, up from 50 percent in prior years. Cook receives most of his compensation in the form of restricted stock units, and the number of shares he is awarded is based on how well the business performs in comparison to the S&P 500. Apple stock has seen a return of 1,212 percent since Cook was appointed CEO of Apple in 2011, compared to 290 percent for the S&P 500. The compensation committee also declared its intention to set Cook's annual target pay in future years between the 80th and 90th percentiles in terms of Apple's main peer group. This indicates that Cook's pay will be comparable to other CEOs at businesses like his own, though it may not be the highest in the sector. Cook's 2011 stock grant was worth more than $900 million at Apple's share price in September 2020. Cook also declared his intention to donate his fortune to charity in 2015. Read more at CNBC here. Lucas Nolan is a reporter for Breitbart News covering issues of free speech and online censorship. Follow him on Twitter @LucasNolan.
Read the full article at the original website
References: