Kenya's Deadly Neglect of Health Workers' Concerns
During the first year of the Covid-19 pandemic, Dr.Wahura Kanyoro spent her days at Kenyatta Teaching and Referral Hospital dutifully treating and caring for patients.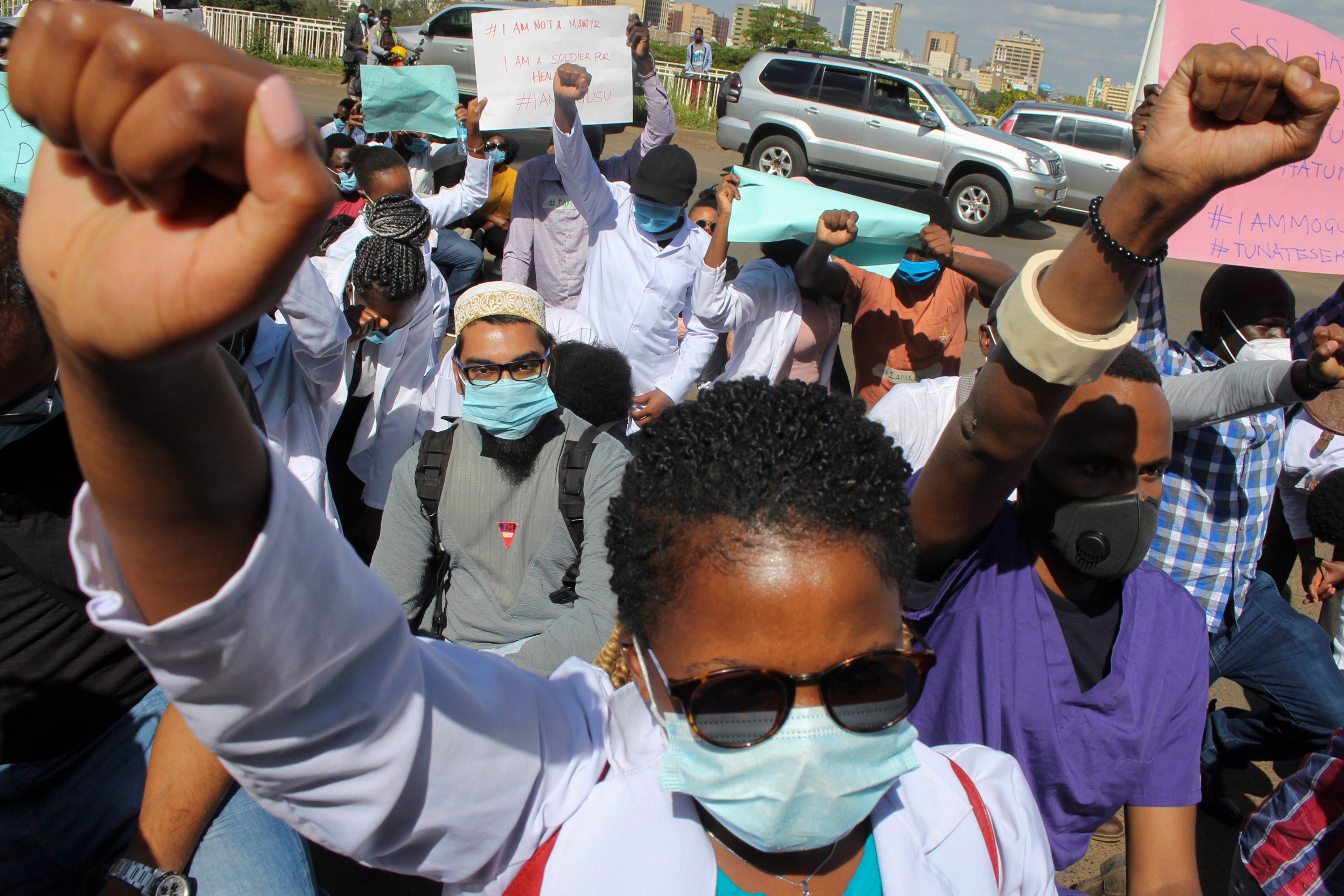 .
The difficult working conditions at the hospital began to take a toll on her over time. Dr. Kanyoro shared on social media about how equipment shortages made her job extremely difficult and dangerous, such as when in one shift she "had to let three babies die . . . because [she] didn't have what [she] needed to save them." Last June, the numerous deaths, and near-death experiences due to lack of proper equipment and supplies at her workplace led Dr. Kanyoro to walk out of the hospital without alerting anyone. She was later found dead in her vehicle in the hospital parking lot with a note beside her. "I am scared of dying but I am more scared of living," the note read. Losing patients due to the extreme circumstances in her hospital led Dr. Kanyoro to take her own life. Despite the persistent demands by health workers, like Dr. Kanyoro, for adequate personal protective equipment, proper training, sufficient staffing, and psychosocial support, the government has continually frustrated their efforts, and failed to address those grievances. And the inability to adequately support health workers, especially during multiple spikes in Covid-19 cases ultimately undermines Kenya's ability to provide timely and quality health care for everyone. Sadly, according to media reports, not much has changed between the early stages of Covid-19 and this most recent wave with Omicron. As Human Rights Watch documented in 2021, despite the promises early on to support health workers on the front lines of the pandemic, the government has not fixed the problems. It has failed to provide adequate protective equipment, recruit more health workers, train the workers before deployment to Covid-19 wards, and even to put in place its own protocol on testing or safety measures to ensure the uninterrupted provision of health services. In the midst of the last Covid-19 surge, health workers reported being overworked, understaffed, and under-equipped to handle the increased demands brought on by the pandemic. And when health workers are hampered and don't receive the support they need, the quality of patient care suffers due to clinic and laboratory delays, risk of misdiagnosis, and inadequate treatment. Rather than address these critical issues, the authorities have used coercion, threats, and intimidation to silence health workers. In 2020, after unsuccessful attempts to negotiate with the government, the Kenya Medical Practitioners and Dentist Union and Kenya National Union of Nurses resorted to industrial action – organizing go-slows, boycotting work, and taking to the streets – to try to force the government to the table. Despite the rising number of Covid-19 infections, the government did not demonstrate any commitment or urgency to address the health workers' grievances. Instead, the government dismissed concerns and argued that this novel pandemic "[was] not a unique situation where [health workers] are feeling that they are not taken care of by the government." Despite existing staff shortages, protesting health workers were fired, and the authorities moved to ensure that striking physicians would be barred from future employment in the public service. Now, with Covid-19 infections surging in Kenya due to the Omicron variant, threatening to exacerbate the stresses on an already burdened health system, health workers find that their grievances remain as valid today as they were in 2020, and the government has been no more responsive. Kenyan authorities have a responsibility to address the concerns of health workers and fulfill the right to quality health care for the country's people. Under international and African law, the Kenyan government has an obligation to protect its health workers from workplace hazards, from risks of Covid-19 infection while on duty, and to provide the necessary equipment, supplies, and staff to ensure the highest possible quality of care. Similarly, the government is required to take the necessary steps to guarantee that every person has the same access to quality health facilities, goods, and services. To ensure that the strikes do not keep recurring, the government needs to listen to health workers and place Kenyans' health care needs above their own individual political interests.
The government needs to allocate the necessary funds and resources to ensure that healthcare facilities are properly stocked and to recruit, train, and support sufficient staff to run laboratories and treat patients. Only then will the health care system in Kenya become functional, and capable of adequately serving the people.
Read the full article at the original website
References: