Labor Secretary Walsh: We Need to Focus on Getting People Vaccinated, Wearing Masks to Solve Jobs Problem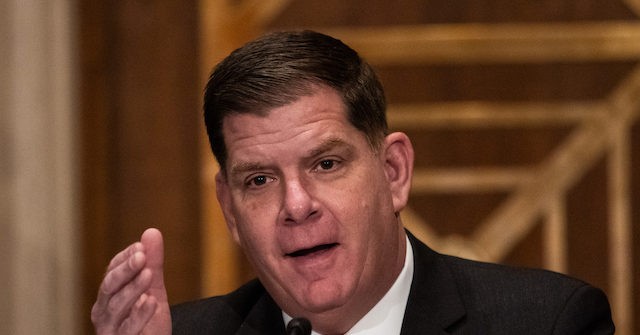 Monday on CNN's "New Day," Labor Secretary Marty Walsh addressed the August jobs report showing the United States added far fewer jobs in August than expected as many people are set to lose their extended unemployment benefits. According to Walsh, the way to fix the jobs problem is to get everyone vaccinated and wearing masks. "I think that the administration needs ... to focus on the Delta variant," Walsh advised. "I think we need to focus on getting people vaccinated. I don't think we should be ... looking backwards. I think we need to be looking forwards. We're seeing that ... last week and this week, we're supposed to be opening schools. Most schools, all schools are going to be in person, and now we have high rates amongst children. We have areas where we are going to get kids back into school. Parents are going to be allowed to have the opportunity now to have good, strong childcare by having schools open. That potentially is at risk. We have some work in front of us to do to push back on this Delta variant, and we need to make sure people — I heard the doctor from the children's hospital in the previous segment, you know, masks, when need be, you need them, and we need to get people vaccinated." "This is not a political issue," he added. "I don't know when masks and vaccines started to become political, but people are dying. People are putting themselves at risk.
They are putting people around them at risk. We need to get more and more people vaccinated. Right now, we have about 70% of all adults in this country that have at least one shot, and in some cases, even better than that. We need to get people vaccinated." Follow Trent Baker on Twitter @MagnifiTrent.
Read the full article at the original website
References: