Modulation of Mind Wandering Using Monaural Beat Stimulation in Subjects With High Trait-Level Mind Wandering
Mind wandering (MW) refers to a state when attention shifts from the task at hand or current situation toward thoughts, feelings, and imaginations.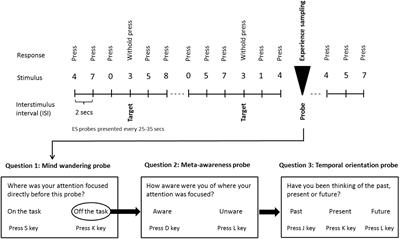 This state is often accompanied by a decline in mood, and patients suffering from major depression exhibit more perseverative MW. Hence, although the directionality of the relationship between mood and MW is still under investigation, it may be useful to explore possible avenues to reduce MW. In an earlier pilot study, we investigated MW during auditory beat stimulation in healthy subjects using thought-probes during a sustained attention to response task (SART). We found evidence for reduced MW during monaural 5 Hz beats compared to silence, sine tones, and binaural 5 Hz beats. Moreover, the data tentatively suggested that this reduction was particularly pronounced in subjects with high levels of MW during silence. In the current study, we therefore asked whether MW can be reduced by monaural theta beats in subjects with high trait-levels of MW, as indicated by an online MW questionnaire. Preselected subjects performed a SART task with thought-probes assessing the propensity to mind wander, meta-awareness, and the temporal orientation of MW. Stimulation conditions comprised monaural theta beats, as well as silence (headphones on), and sine tones as control conditions. Our main hypothesis stating that the propensity to mind wander during monaural theta beats is reduced compared to both control conditions was only partly confirmed. Indeed, MW was significantly diminished during exposure to the theta beats compared to sine tones. However, reduced MW during theta beats versus silence was only observed in a subgroup using stricter inclusion criteria. Considering possible reasons for this outcome, our data suggest that the preselection procedure was suboptimal and that beat effects are modulated by the individual responses to auditory stimulation in general..
Read the full article at the original website
References: