Norfolk Southern Advances Far-Left ESG, DEI Agenda After Spurring Toxic Chemical Disaster in East Palestine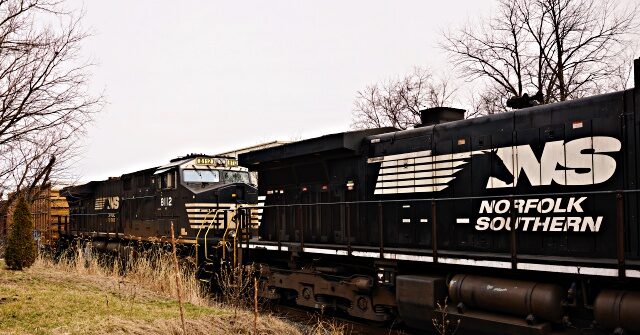 Norfolk Southern, the powerful rail company that spurred a toxic chemical disaster in East Palestine, Ohio this year, has set its sights on advancing a far-left agenda by promoting the Environment, Social, and Governance (ESG) movement and imposing Diversity, Equity, and Inclusion (DEI) policies. Norfolk Southern is strongly in favor of the ESG movement, the latest vector by which big corporations push a leftist social agenda that includes diversity quotas, solving climate change, and advancing racial equity. In many cases, large asset managers such as BlackRock, Vanguard, and State Street push publicly listed companies to adopt these leftist agendas. Vanguard, BlackRock, and State Street are the top three holders of Norfolk Southern. Already, Norfolk Southern has adopted ESG and DEI initiatives on its own.
The railway company's 2023 ESG report states that CEO Alan Shaw "signaled the company's DEI commitment by signing the CEO Action for Inclusion pledge," which includes milestones like: RELATED: Cotton: ESG Movement Benefits China, China 'Probably' Funds It Like Russia Funded Anti-Fracking Push "In 2022, progress on our DEI journey accelerated as we shifted from building awareness to increased action," Norfolk Southern executives wrote, touting that it was "benchmarking our disability inclusion journey with the Disability Equality Index and partnering with an external consultant to accelerate our DEI strategies and initiatives." As part of its broader DEI goals, Norfolk Southern executives bragged about having employers undergo "new DEI training" and including DEI in its Code of Ethics. In addition, Norfolk Southern promoted Pride Month, Women's History Month, and Black History Month among its employees, according to the report. "We've made tremendous achievements in decarbonizing supply chains and reinforcing an inclusive workplace culture built around safety, and our work and commitment to these goals is unwavering," Norfolk Southern Chief Sustainability Officer Josh Raglin said in a statement. "None of this would be possible without our incredible team of people who are committed to building a better planet and more resilient communities for generations to come," Raglin continued. Norfolk Southern's joining a growing list of powerful, big corporations promoting the ESG movement and DEI policies comes only months after one of its trains derailed in East Palestine, with a population of less than 5,000, leaving chemicals spewing into the community's environment. FILE – This photo taken with a drone shows portions of a Norfolk Southern freight train that derailed Friday night in East Palestine, Ohio are still on fire at mid-day Saturday, Feb. 4, 2023. On Friday, Feb 24, The Associated Press reported on stories circulating online incorrectly claiming a photo shows birds that "dropped dead" in Kentucky following the Ohio train derailment, and a video shows birds in northern Indiana that also died from the hazardous chemicals released after the derailment. (AP Photo/Gene J. Puskar, File) The Ohio Department of Natural Resources estimates that more than 43,000 fish and other aquatic animals were killed as a result of the toxic chemical spill, while residents have reported feeling sick, getting rashes, and developing "chemical bronchitis." RELATED: YOU FIRST: Do Ohio Officials Appear Reluctant to Drink East Palestine Water? To ensure Norfolk Southern and other rail companies are held accountable when they spur such disasters in American cities and towns, Sens. J.D. Vance (R-OH), Josh Hawley (R-MO), Marco Rubio (R-FL), John Fetterman (D-PA), Bob Casey (D-PA), and Sherrod Brown (D-OH) introduced the Railway Safety Act.
The legislation would make modest but prominent changes to rail safety regulations like requiring bearing defect detectors every 10 miles. Such a change could have prevented the derailment in East Palestine that occurred when the bearings overheated, causing the train to derail. Likewise, the legislation requires rail companies to properly notify local firefighters and other first responders when hazardous chemicals are traveling through their communities. In the case of East Palestine, firefighters were initially unaware that they would be dealing with toxic chemicals. "If you, the railroad, have to pay every single cent when your train crashes and you basically set off chemical bombs in the middle of one my constituents' hometowns, if you had to pay for that, you would respond to the public safety concerns much differently than the railroads currently do," Vance said on the American Moment podcast in April. @JDVance1/Twitter "But because a lot of [the costs] fall on the American taxpayer, and the Ohio taxpayer in this case, these railroads don't conduct business the way that they should," Vance said. "Really, this is about basic fairness. If you're going to cause the problem, you ought to pay for it." RELATED: J. D. Vance: Rail Industry Is "In Bed with Big Government" The legislation, though, is opposed by the nation's biggest rail companies, including Norfolk Southern, which have been lobbying lawmakers in Washington, DC to stop the bill from advancing in the Senate despite Vance saying he has the votes. A number of groups in the conservative beltway, funded by the rail companies, are lobbying against the legislation as well. Among those opponents is Sen. Ted Cruz (R-TX), a longtime beneficiary of campaign contributions from rail companies. In May, Breitbart News exclusively reported that Cruz had been circulating a letter to House Republicans representing Texas, asking them to publicly trash the Railway Safety Act and, specifically, secure opposition from Rep. Troy Nehls (R-TX), who leads the Subcommittee on Railroads, Pipelines, and Hazardous Materials. In 2018, facing re-election, a political action committee (PAC) funded by BNSF Railway donated $10,000 to Cruz while executives at BNSF Railway donated more than $35,000. Likewise, Union Pacific Railroad's PAC donated $10,000 to Cruz and spent almost $7,000 to help him get re-elected. Meanwhile, that same year, Norfolk Southern's PAC funded Cruz's re-election campaign to the tune of $5,000. Similarly, the Cruz-aligned Competitive Enterprise Institute (CEI) — which has lobbied against Vance's legislation — is funded directly by the railway industry, including Norfolk Southern, Union Pacific, CSX Corporation, BNSF Railway, and the Association of American Railroads. WASHINGTON, DC – MAY 04: Sen. Ted Cruz (R-TX) speaks with reporters following a vote at the U.S. Capitol on Thursday, May 4, 2023 in Washington, DC. (Kent Nishimura / Los Angeles Times via Getty Images) Also in 2018, a PAC affiliated with Cruz enjoyed massive support from rail companies, including $30,000 from Union Pacific, $20,000 from CSX Corporation, and $20,000 from Norfolk Southern. In the meantime, East Palestine residents continue suffering following the derailment. During an online town hall over a month ago, many residents said they are having to consider moving due to crippling economic hardship as well as worries that the water and ground soil remains contaminated. "After this derailment, I get violently ill if I'm in town now, it's as little as 15 minutes that I'm in there. I start to feel my arms tangled," one resident detailed. "I get very dizzy and lethargic and confused and I get diarrhea. I get really bad headaches and two of my foster kids get headaches and nose bleeds." "I make my money off of my land," another resident said. "I live off my land. And that's not happening right now. And it's a huge blow ... I'm getting tired. This is the hardest fight I've ever had to deal with my entire life." Sean Moran is a policy reporter for Breitbart News. Follow him on Twitter @SeanMoran3. John Binder is a reporter for Breitbart News. Email him at jbinder@breitbart.com. Follow him on Twitter here. .
Read the full article at the original website
References: