Oklahoma Demands Answers from Financial Institutions over ESG Policies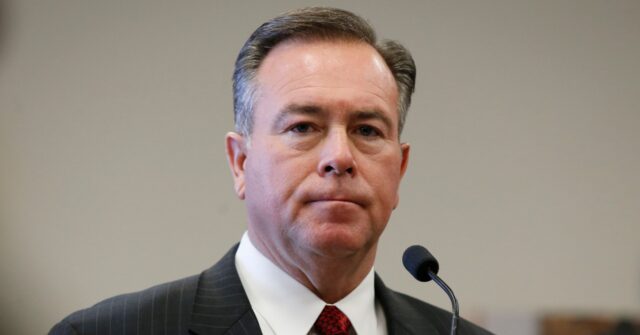 Oklahoma state Treasurer Todd Russ sent a letter, first seen by Breitbart News, to numerous national financial institutions, including fund managers and banks, demanding answers to a questionnaire asking who is "boycott[ing] energy companies" in Oklahoma and should be placed on a blacklist.
The companies will have 60 days to respond, which is the first step Russ is taking to compile the list of companies Oklahoma government entities will be prohibited from doing business with because of their leftist environmental, social, and governance (ESG) policies. "I took office on January 9th and began compiling a list of companies, banks, and other entities that act against Oklahoma's interests because of their ESG stance. It is my responsibility to ensure Oklahoman's tax dollars will not be used to enrich organizations that act counter to our taxpayers' interests and our values," Russ said in a statement to Breitbart News.
The letter was sent to institutions like BlackRock, JP Morgan, StateStreet, Vanguard, and other companies to determine if the financial institutions "boycott energy companies." This would ultimately place the company on a public list that would "prohibit Oklahoma governmental entities from investing in, and may potentially require divestment from [the] company, [the] company's affiliates, and subsidiaries, or investment vehicles affiliated with [the] company, its affiliates or subsidiaries." "This questionnaire provides an opportunity for financial companies to attest to their business actions as they relate to Oklahoma. Other states are taking similar steps, and Oklahoma joins them in asserting that we will not do business with financial companies who discriminate against or boycott our energy industries and businesses," Russ continued. Oklahoma State Treasurer Todd Russ holds his hand over his heart as the national anthem is played during inauguration ceremonies Monday, Jan. 9, 2023, in Oklahoma City. (AP Photo/Sue Ogrocki) Last year, the Oklahoma Legislature — which Russ was a part of at the time — passed the "Energy Discrimination Elimination Act," which requires the state's treasurer to determine and provide a list of what financial companies who are "taking any action that is intended to penalize, inflict economic harm on, or limit commercial relations with a company" due to its on fossil fuels and the leftwing ESG criteria. Under the law, each financial institution is requested to provide "written verification" of their "company's position regarding the boycott of energy companies, executed and verified by an authorized representative of your company." The companies have until April 1 to return their answer, and companies who fail to respond within the 60 days are presumed to be engaging in "boycotting energy companies" and would therefore be placed on the boycott list. "This list is crucial to provide accountability for our government entities, including organizations responsible for pension funds such as the Oklahoma Public Employees Retirement System (OPERS), Teachers Retirement System (TRS), to ensure our constituents' tax dollars are only invested in secure and verified financial companies that comply with Oklahoma law," Russ added. "OPERS alone has more than 60 percent of their portfolio totaling more than $10 billion managed by Blackrock, a well-known adversary of energy businesses. Oklahoma Energy Discrimination Elimination Act Letter and Companies by Breitbart News on Scribd Regarding the Oklahoma state treasurer's letter to the financial institutions, State Financial Officers Foundation CEO Derek Kreifels told Breitbart News, "We applaud newly elected Treasurer Russ for taking a significant first step within his first month of office, guarding his state's financial security against banks that boycott energy companies prioritizing agendas that run contrary to Oklahoma taxpayers' interests." Kreifels added, "Treasurer Russ and state financial officers across the country are at the forefront of the fight against ESG, ensuring that American families' savings are invested according to their values and not for the political aims of ESG elitists." As Kreifels noted, over this past year Republicans across the United States have started to take aim at the ESG policy movement. Last November, multiple state treasurers attended SFOF's conference to present strategies to combat the ESG policy movement. And with one of the main focuses on educating Americans on the dangers of ESG policies, the group launched a website and a video explainer. Multiple state treasurers at the conference also explained to Breitbart News that ESG policies hurt each state differently but collectively hurt all American taxpayers financially.
Their joint aim remains to combat left-wing policies masquerading as economics. File/Oklahoma state Rep. Todd Russ, center, R-Cordell, speaks at a news conference in Oklahoma City, Tuesday, April 30, 2013. (AP Photo/Sue Ogrocki) Will Hild, the executive director of Consumers' Research, also told Breitbart News, "We are now seeing a number of states stand up to Wall Street elitists who foolishly thought they could take your retirement dollars and weaponize them against you." "Every day, more Americans are becoming aware of the ESG scam and letting elected officials know they want answers to how their money is being managed, and assurance that they are getting maximized returns," Hild added. "Treasurer Russ is acting on behalf of his constituents and showing what real leadership is all about. Companies like BlackRock are on notice – this is what happens when you wage war on the pocketbooks of the American people for the sake of a radical progressive agenda and your friends in the Chinese Communist Party. You lose." Jacob Bliss is a reporter for Breitbart News. Write to him at jbliss@breitbart.com or follow him on Twitter @JacobMBliss.
Read the full article at the original website
References: