Oscars Swag Bags Down Nearly $100,000 in Value from 2020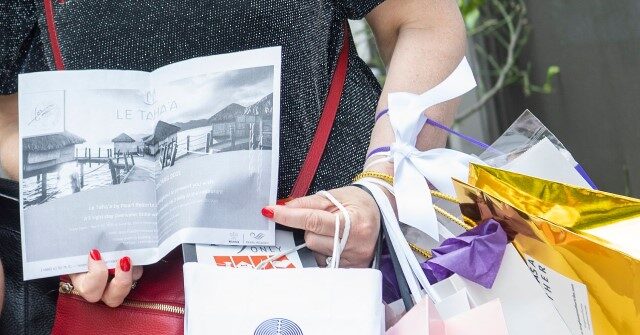 The Oscars are once again nigh, and this year's awards attendees are getting a swag bag worth $126,000, nearly two times the yearly income of the average American — but drastically reduced in value compared to just a few years ago.
The goodies in the 2023 Oscars swag bag range from "$5 for coconut water, all the way to $40,000 Canadian getaway," according to Fortune magazine.
The gift bags are being created by Distinctive Assets, the L.A.-based marketing company that has been arranging the packages since 2002.
The bags are worth a bit less this year compared to last year's $137,000 total, the magazine added. And last year's was also a step down from the whopping $205,000 gift bag from 2021 and the incredible $225,000 haul from 2020. But this year's gifts still include some high-dollar offers.
The most expensive part of the bag is the $40,000 price tag on a three-night stay at an "ultra-modern" private estate in Ottawa.
The estate has access to lakes and forests and already has two luxury cars in its garage for renters' use.
The bag is also woke, with a slate of "gender-neutral" perfumes and fragrances worth $400. One reason the perfume is priced so high is that it has emeralds and rubies embedded in its bottle cap. Other woke gifts include a free plot of land in Australia to help reforestation efforts and a PETA neck pillow to protest experiments on animals.
Then there is the $435 box of Bateel candied dates, a $12,00 voucher for "body sculpting" at ArtLipo's, a $90 "photo shoot kit" that features ways to primp before walking the red carpet, a $9,000 three-night stay at Faro Punta Imperatore Lighthouse in Italy, $515 worth of luxury skincare products, a $20 loaf of Japanese milk bread, and much more. But Distinctive Assets chief Lash Fary says it isn't about the big money value. "While this gift bag does, as always, have an impressive value, that is neither our focus nor goal. This is a straightforward win/win," Fary said. "These nominees are in a unique position to help participating brands immeasurably by simply wearing, using and talking about these products." Fray added that the nominees are very keen to get their bags, too. Last year, he told CNBC that up to 30 percent of them have their staffs call Distinctive Assets to make sure their bags are sent to the right place. Meanwhile, Biden's disastrous economy is sitting heavy on the shoulders of everyday Americans. A poll from Feb. found that nearly 60 percent of Americans say that they have less money left over after paying their monthly bills and they have fewer dollars for entertainment, restaurants, incidentals, and other non-essential spending. Also last month, a key measure of consumer prices showed inflation accelerated in January as spending, income, and saving surged.
The personal consumption expenditure price index jumped 0.6 percent in January compared with a month earlier, the Commerce Department reported at the end of Feb.
The prior month's inflation rate was revised up from 0.1 percent to 0.2 percent. And with the costs of food soaring month over month, half of Americans say they are worse off under the Biden regime. Last week it was even revealed that used car prices have jumped the most in 14 years, putting middle and lower income people at a disadvantage in finding affordable transportation to get them back and forth to their jobs. Follow Warner Todd Huston on Facebook at: facebook.com/Warner.Todd.Huston, or Truth Social @WarnerToddHuston.
Read the full article at the original website
References: