PNC Bank Inexplicably Cuts Ties with Trump Jr. News Aggregator MxM
PNC Financial Services Group Inc.abruptly severed ties with the aggregate news company MxM News, an application co-founded by Donald Trump Jr., the former president's son announced on Thursday.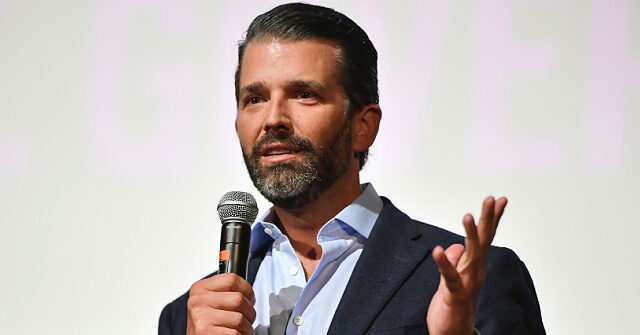 . MxM News is akin to other apps that aggregate news content, like Google News or Apple News, both of which have faced accusations of censorship from conservatives. Former Donald Trump spokesman Taylor Budowich co-founded the app alongside Trump Jr. last year. "Woke @PNCBank just shut down the bank account for my app @mxmnews without any explanation," Trump Jr. tweeted. "The Left doesn't think you should be able to exist, much less thrive, in society. It should be illegal to discriminate based on political affiliation!!!" Trump Jr. told Fox News he and Budowich created MxM News to "provide curated stories that are being silenced and or suppressed by big tech and the mainstream media." Budowich learned of the account's closure when he visited a PNC Bank branch office in Florida to pay vendor invoices. Budowich told Fox News: The teller said he was unable to complete the transfers as the account had been closed and balance had been zeroed out. After being told to call a generic help line, I was informed by the PNC representative that per the terms and conditions, PNC reserves the right to re-evaluate their business relationships at any time and terminate accounts without cause. Woke corporations are using their terms and conditions like a guillotine over the head of every conservative entrepreneur. PNC Bank then sent a letter to Trump Jr. and Budowich that informed them of the account's closure but did not provide any reasons for their decision.
The letter, obtained by Fox News, said: Here's what happened: Your PNC account has been closed. Enclosed you'll find a cashier's check representing the balance of your remaining funds. Here's what you'll need to do: Please destroy all unused checks, withdrawal/deposit tickets and any debit card accessing the account. Trump Jr. said the closure illustrates how "banks" and "the entire corporate America" have "become plagued by the woke agenda," before calling for the creation of a "patriot economy." "We need a patriot economy. We need a parallel economy to fight back," he said. Trump Jr. said the account's closure was "a minor setback for MxM News that we were able to quickly resolve." "But what about every other start up, or small business who wants to pursue a values-based company?" Trump Jr. asked. "This should be investigated, and it should be illegal to discriminate based on political affiliation." Republican strategist and Trump Jr. adviser Andy Surabian reiterated Trump Jr.'s calls for a congressional investigation. "Republicans in Congress should immediately investigate this type of blatant discrimination of conservatives that woke banks like @PNCBank have been engaging in for far too long," Surabian tweeted. Several House Republicans also chimed in on PNC Bank's action. House Speaker Kevin McCarthy (R-CA) called the situation "outrageous," while Rep. Jim Banks (R-IN) joked that the closure may have "boosted" PNC Banks' Environmental, Social, and Governance score. "I bet this boosted @PNCBank's ESG score... I started the anti-woke caucus to end this sort of cancerous behavior," Banks tweeted. Rep. Elise Stefanik (R-NY) called PNC Bank's move a "desperate and illegal attempt to silence conservatives." Former Deputy Director of National Intelligence Cliff Sims weighed in on the situation. "Sorry to interrupt your evening, @PNCBank consultants and lobbyists!" Sims tweeted. Turning Point USA's Charlie Kirk unearthed a 2021 tweet from PNC CEO Bill Demchak that addressed the bank's "unwavering commitment to preserving equal access to voting," and accused the company of not supporting "equal access to banking." "Hey @PNCBank, why did you shut down @DonaldJTrumpJr's bank account? So you're for 'equal access to voting' but not equal access to banking? Would sure be a shame if your conservative clients started closing accounts," Kirk tweeted. "Please explain!" Trump Jr.'s girlfriend Kimberly Guilfoyle cautioned that others might be at risk of similar bank closures or political targeting. "If you don't think they'll come for you next you haven't been watching," Guilfoyle tweeted. "@mxmnews aggregates news from all sides so you can see all opinions not just what the DNC & Big Tech wants you to see, but apparently that's enough to get canceled by @PNCBank without even a call." Former California Republican gubernatorial candidate Caitlyn Jenner called the closure "insane" and accused the bank of wanting to "shut down the #patrioteconomy." Kyle Rittenhouse called on his supporters "to stop helping woke businesses, cooperations AND banks profit!" Despite conservatives' concerns over political censorship, PNC Bank said its closure decisions are not based on customers' political beliefs. "While PNC does not comment on the closure of specific accounts, which may occur for a variety of reasons, our account closure decisions are never driven by politics," a PNC representative said in a statement. "As a national bank, we recognize and respect that our customers and our employees hold a wide range of political beliefs." Jordan Dixon-Hamilton is a reporter for Breitbart News. Write to him at jdixonhamilton@breitbart.com or follow him on Twitter.
Read the full article at the original website
References: