Report: Biden to Recommend Increasing Red Tape, Fees on Oil Industry
Despite high gasoline prices stressing the U.S.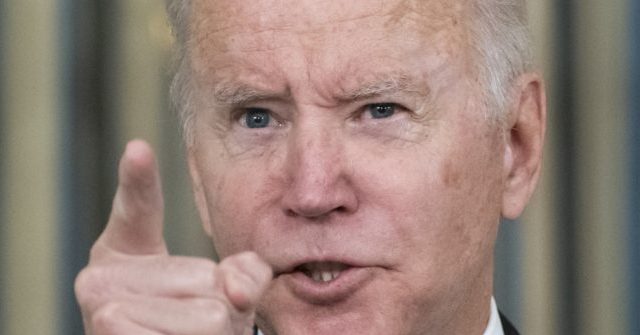 consumer and home heating prices expected to soar this winter, the Biden administration will reportedly recommend hiking fees and increasing red tape on the United States's oil industry Friday.
The move to raise the costs of U.S. energy production runs contrary to the Biden administration's pledge to bring down gasoline costs.
The Biden administration has been urging foreign producers to increase oil supplies and asked the Federal Trade Commission to investigate energy companies for potentially illegal and anticompetitive behavior.
The U.S. Interior Department will release a delayed study from the summer about how to further strangle the American energy sector to fulfill Biden's campaign promise to the far-left, Reuters reported: Under the U.S. federal oil and gas leasing program, the Interior Department is required to hold regular auctions of federal land for the oil and gas drilling industry – an initiative intended to boost domestic energy self-sufficiency and raise money for public coffers. One source said the report will discuss royalties and fees that drillers are required to pay for drilling on federal land, as well as non-competitive leasing – a controversial process where leases not sold at an auction can be sold directly to interested companies during the following two years. About a quarter of the nation's oil and gas comes from federal leases and the program raises billions of dollars for federal and state budgets.
The review is another step taken in Biden's war on American energy independence. In this Aug. 21, 2017 file photo, workers make sure that each section of the Enbridge replacement Line 3 that is joined passes muster in Superior, Wisc.
The sponsor of the Keystone XL crude oil pipeline says it's pulling the plug on the contentious project, Wednesday, June 9, 2021, after Canadian officials failed to persuade the Biden administration to reverse its cancellation of the company's permit. (Richard Tsong-Taatarii/Star Tribune via AP) Biden canceled the Keystone XL Pipeline in January. Biden is also weighing whether to cancel the Line 5 Michigan pipeline.
The Biden administration has also announced the U.S. would rejoin the Paris Climate Accords and is undertaking a review of environmental regulatory reforms made by the Trump administration that encouraged domestic energy production. Last week, Biden announced the U.S. would release 50 million barrels of oil from the Strategic Petroleum Reserve in hopes that this would lower gasoline prices.
The next day, oil prices climbed higher. Because of pipeline capacity constraints, the maximum daily release from the reserve is 4.5 million barrels. Follow Wendell Husebø on Twitter @WendellHusebø.
Read the full article at the original website
References: