Russia: Journalists Held Over Peaceful Pickets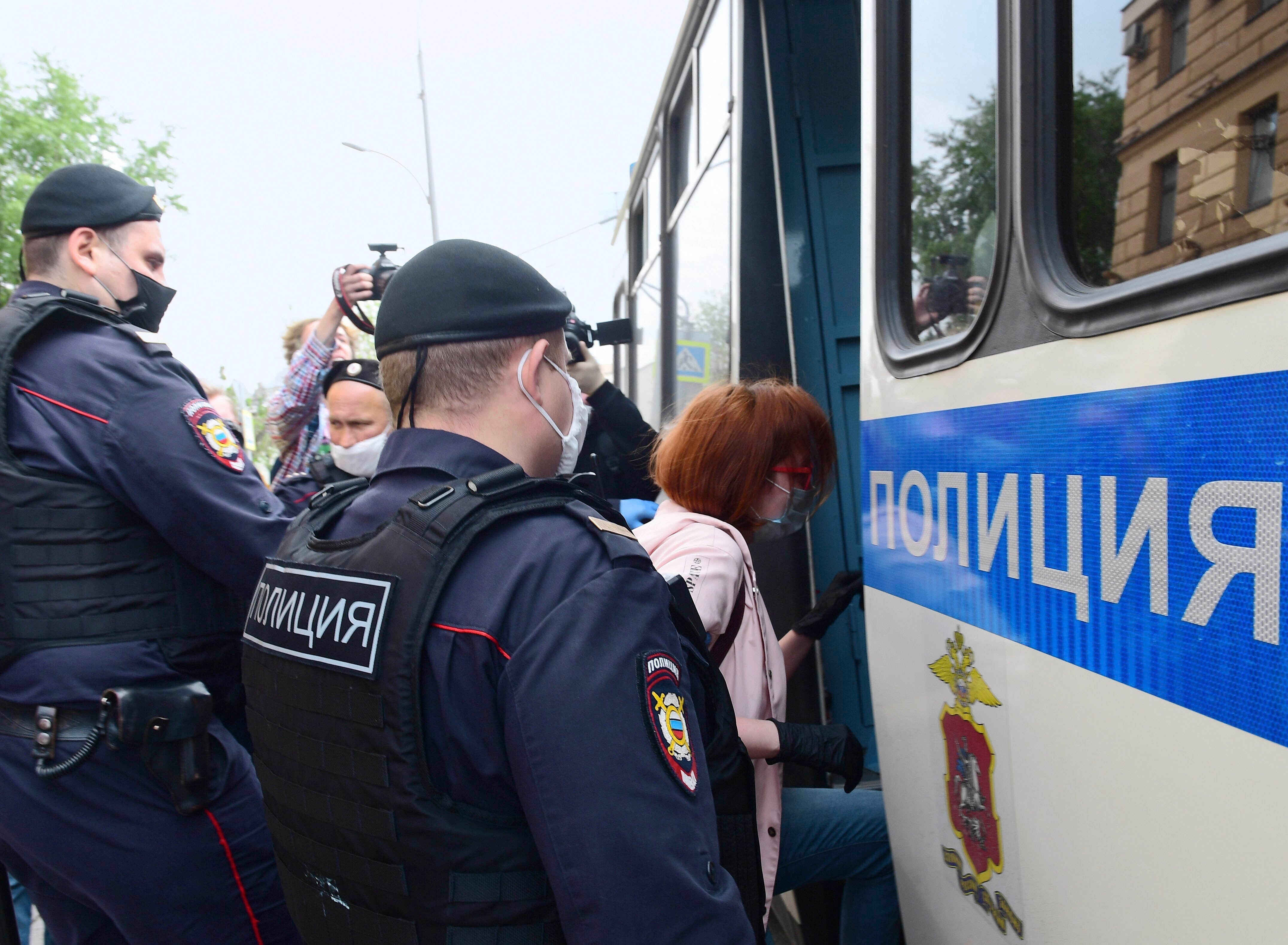 Update: On May 29, police in Moscow arbitrarily detained 30 more people, including journalists, district council representatives and activists who were conducting single person pickets in protest of the arrest of Ilya Azar and the detention of his supporters. Two journalists who were covering the pickets on assignment from their respective media outlets were also detained and later released at the police station without charge. In St. Petersburg, police also detained ten peaceful single protestors. On May 30-31, protestors continued to hold single person pickets in Moscow and police detained 22 more district council representatives, lawyers, and activists. (Moscow) – Moscow police on May 28, 2020 detained seven journalists and a writer who were holding single person pickets in solidarity with another journalist detained for holding a similar protest, Human Rights Watch said today. Ilya Azar, a correspondent for the independent Russian paper Novaya Gazeta, and a district council representative in Moscow, had been sentenced to 15 days in detention earlier that day. "Detaining and punishing people for participating in peaceful protests is unacceptable and a mockery of the right to assembly," said Hugh Williamson, Europe and Central Asia director at Human Rights Watch. Over the past year, Azar co-organized numerous public protests and repeatedly faced police harassment and administrative charges because of his civic and political activism. He was also one of the leaders of peaceful protests in Moscow against the exclusion of independent candidates from city council elections in 2019. At about 5 p.m. on May 26, Azar picketed the Internal Affairs Ministry building in central Moscow, demanding the release of Vladimir Vorontsov, who runs a blog on both the rights of police officers and on abuse by the police. Vorontsov has been in custody since May 7, facing dubious criminal charges for production and distribution of pornography and allegedly extorting money from a law enforcement representative. Police detained Azar, held him for several hours at the station, and charged him with repeated violations of regulations on public gatherings, even though Russian law does not require authorization for a single person to hold a picket. The journalists who were detained while protesting Azar's sentence include the chief editor of Mediazona, Sergey Smirnov, Echo of Moscow journalists Tatyana Felgengauer and Aleksandr Plyutshchev, the Takiye Dela chief editor Anastasiya Lotaryova, and freelance journalists Mikhail Fishman, Ilya Vasyunin, and Viktoriya Ivleva.
The police also detained Alisa Ganiyeva, an award-winning writer, and five members of Russia's Libertarian Party for holding single-person pickets in support of Azar. After some time on a police bus and several hours at the police station, the police released them with charge sheets, pending court hearings. In addition to charging the protesters with participation in an unsanctioned public gathering, the police also accused them of violating the March 5 order from the Moscow mayor banning "public and other mass gatherings" in response to the Covid-19 pandemic. But solitary pickets do not constitute a mass gathering, and the picketers maintained social distance and wore face masks. The OSCE representative on media freedom, the Council of Europe commissioner for human rights, and some members of the Presidential Council for Civil Society and Human Rights in Russia condemned the detentions and expressed concerns over suppression of freedom of peaceful assembly in Russia. Earlier this spring, the World Health Organization and other expert international bodies such as the UN Sub-Committee on the Prevention of Torture, said that governments should minimize the number of people in custody during the pandemic. On May 29, Moscow's International Affairs department stated that "no public events" are allowed in the city because of the "heightened alert regime" invoked for the duration of the epidemic. A statement on the department's website said it was necessary to issue that reminder to the public due to "online dissemination of calls for participation in unsanctioned pubic events," apparently referring to social media posts about protesting Azar's administrative arrest. In a Facebook post published before his arrest, Azar said, "It's no secret that under the guise of fighting the coronavirus epidemic Russian authorities are disproportionately restricting our constitutional right to freedom of assembly.... Of course, we shouldn't be gathering for mass rallies during the time of coronavirus, but ... a single person picket is much safer for the picketer and the passers-by than a trip on the metro." The Russian authorities should not use Covid-19 as an excuse to restrict freedom of assembly any more than is strictly necessary to protect public health, Human Rights Watch said.
The authorities should refrain from preventing anyone from peacefully exercising the right to protest if the protesters are observing social distancing guidance. And the government should not be sending peaceful protesters for detention, particularly at a time when such actions can increase the risk of exposure to Covid-19.
Read the full article at the original website
References: