Russia: New Move to Suffocate Civil Society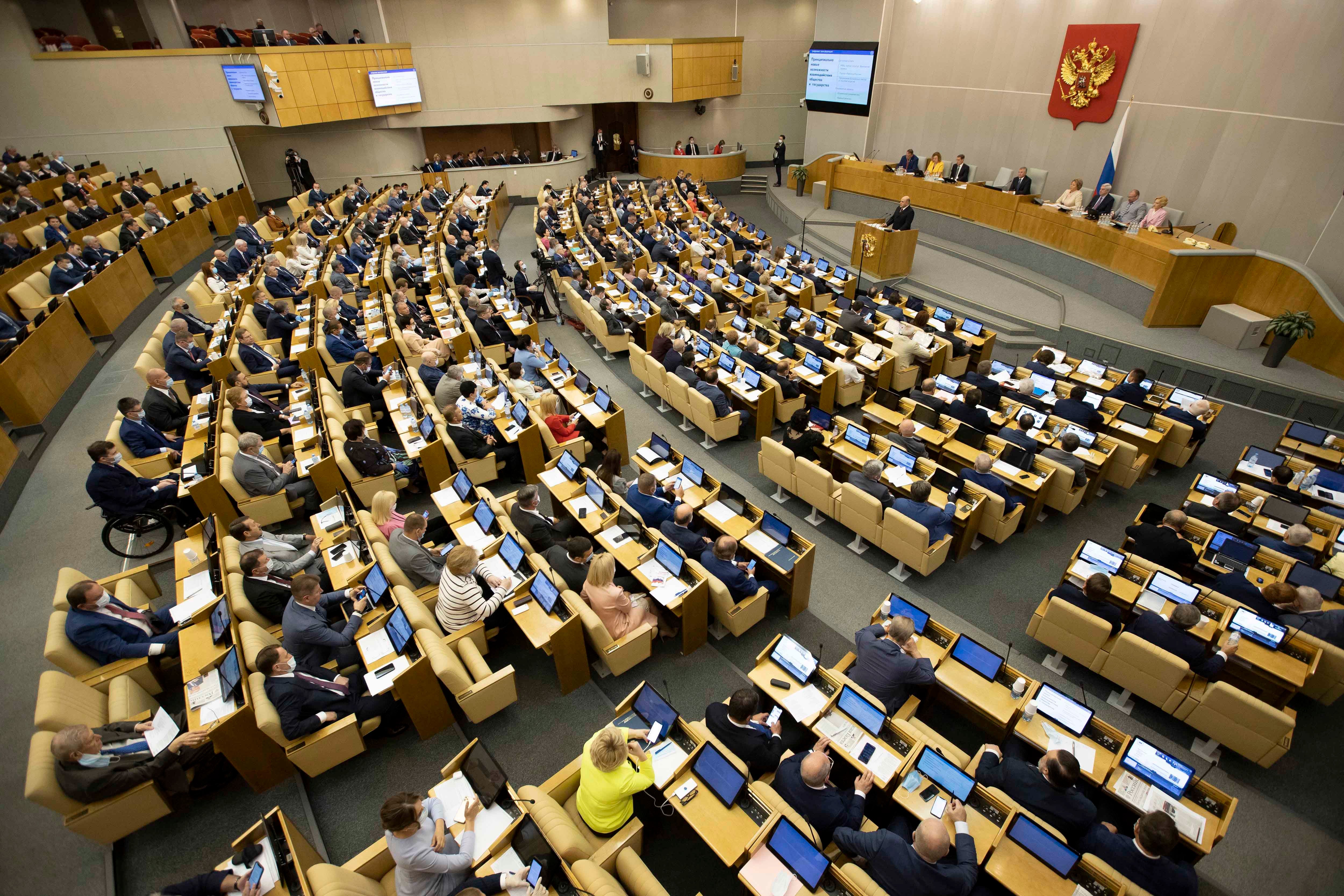 Update (November 30, 2020): This news release was corrected to reflect additional grounds on which a person or organization can be designated a "foreign agent." (Moscow) – A new bill introduced in Russia's parliament on November 18, 2020 is a potentially very dangerous addition to a growing body of oppressive "foreign agents" laws, Human Rights Watch said today. The bill drastically expands the scope of individuals and groups that can be designated "foreign agents," introduces new restrictions and registration and reporting requirements, and obliges the media to note the designation whenever they mention these individuals or groups.
The 2012 "foreign agents" law applied to organizations but was expanded in 2019 to certain individuals – journalists and bloggers. Now it could include almost anyone. "In less than two weeks, two bills have entered the legislative pipeline that shamelessly encroach on the minuscule space left for civic activism in Russia," said Hugh Williamson, Europe and Central Asia director at Human Rights Watch. "For now, human rights defenders, environmentalists, and other activists can avoid the unwarranted and toxic 'foreign agent label,' by shutting their organizations and continuing their activism as individuals, but under this draft, they would have to end their work entirely, or assume for themselves the 'foreign agent' label that would isolate them from Russian society." The bill introduces the designation of individuals as "foreign agents" through an amendment to the 2012 law "on measures of influence against persons involved in violating basic human rights and freedoms, violating Russian nationals' rights and freedoms." This law was adopted to retaliate after the United States and the European Union adopted sanctions against individuals responsible for human rights violations in Russia. For years, Russian authorities have used the "foreign agents" law to suppress independent groups. Under the new bill, a person of any nationality can be designated a "foreign agent" if they receive money or other support from a foreign state, international or foreign organization, or even a foreign or stateless person, and, acting in their interest, engage in "political activity" or are deemed to gather information on Russian military activities that "can be used against Russia's security or interests." With respect to individuals, the bill does not limit the "support" from foreign sources to funds or property, as is the case for other categories of foreign agents. Support includes "organizational and methodological" support, which can presumably include training and capacity-building. The bill enables the Federal Security Service (FSB) to determine what information would fall into that category. Given that information on FSB decisions tends to be classified, there is serious concern that grounds for this classification would be arbitrary. This could jeopardize human rights groups' reporting on human rights violations by Russian forces in armed conflicts in Ukraine, Syria, and elsewhere. Consistent with other categories of "foreign agents," the bill requires designated individuals to register with the authorities, who publish an official list online.
The authorities can also forcibly include individuals on the list. Contesting the designation is tedious and rarely successful. Designated individuals would not be able to run for elected office or hold government positions. The bill exempts diplomatic personnel, accredited foreign journalists, and other unspecified individuals. But foreign journalists who engage in "foreign agent" activities "incompatible with their professional journalistic activities" can still be designated. The range of activity and support that can result in a "foreign agent" designation is vague, and past experience shows a serious risk of its arbitrary application, Human Rights Watch said. The bill requires designated people to inform Russian authorities, in advance of their arrival in the country, of any intent to engage in "foreign agent" activities.
They would also have to report on their activities twice a year and label all materials they produce or distribute as "foreign agent." The bill expanded the scope of "foreign agents" to informal groups of activists that are not registered as legal entities. If the bill is adopted, they too would be obligated to comply with "foreign agent" registration, reporting, and labelling rules. Following the adoption of the 2012 "foreign agents" law, which led to widespread persecution, a number of prominent human rights and other groups closed but continued to operate as informal professional groups.
The bill would close this loophole for the survival of independent activism, Human Rights Watch said. The new bill expands the requirements for labelling the materials of groups targeted as "foreign agents." Any materials published by such groups' founders, members, leadership, or staff members, if produced or distributed as part of "political activities," regardless of whether they were created as part of their work with the group, would have to be labeled as "foreign agent." The bill would significantly expand grounds for unscheduled inspections of an independent group, including if authorities receive information that its activities "do not comply with its chartered aims and purposes." The draft includes no qualifying criteria requiring the allegations to be credible before they trigger an inspection, nor any cap on the number of these inspections.
The bill would also allow extending such checks to up to 45 days. The inspection provisions could become a convenient tool to interfere with, and even paralyze, the work of affected organizations, Human Rights Watch said. The bill explicitly bans "foreign agent" groups from participating in public councils – advisory bodies – of local or federal authorities. The bill also expands the definition of foreign funds to include those that were received from Russian nationals or organizations who received the funds from foreign sources. It puts the burden on recipients of donations or grants to trace the source of their funds, seemingly without any limits. It also leaves them vulnerable to provocations or entrapment. International human rights bodies have repeatedly reminded the Russian authorities that their laws on "foreign agents" violate basic human rights standards and urged the authorities to bring their laws in line with international standards, including the United Nations Human Rights Committee, and the Council of Europe's Venice Commission, and the Commissioner for Human Rights. "The international community should not stand by and observe these efforts to blatantly violate Russia's international legal obligations and eviscerate independent voices," Williamson said. "They should press Russia's authorities to drop these harmful bills.".
Read the full article at the original website
References: