Sports Betting Resulting in Sharp Rise in Gambling Addictions and Financial Distress, Especially for Young Men
Sports betting is now fully legal in 36 states, and betting on your favorite team is easier than ever with apps on phones and computers.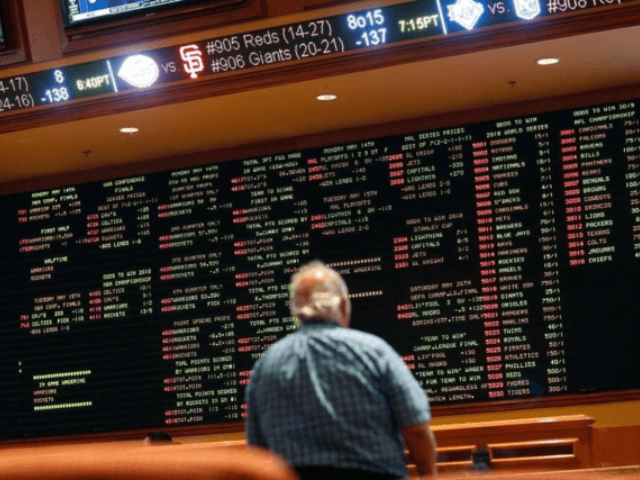 But the rise in sportsbooks corresponds with a sharp rise in gambling addiction and the financial distress that follows. Governments an enamored by the rise in sports books because it brings billions in new tax revenue. Sports betting is one of the biggest boons in new tax revenue many states have seen in decades. Since the Murphy v. National Collegiate Athletic Association Supreme Court ruling, nearly half the states rushed headlong into sports betting, and these early birds have raked in billions in revenue. Image Source/Getty Images Nevada, Pennsylvania, and New Jersey are the biggest states for sports gambling tax revenue. As Breitbart News reported in 2021, Nevada pulled in more than $61 million in taxes in 2020, while New Jersey saw $118 million. Pennsylvania reaped the biggest reward with an additional $124 million in new tax dollars. And those numbers are only growing. By March of 2023, for instance, New Jersey had already earned $72.3 million in tax revenue, New York made $209 million, and Pennsylvania took in $58 million. According to Roundhill Investments, Americans placed over $93 billion in legal sports bets in 2022 alone. Which states are driving the legal sports betting market, and which have not yet become major players? The answer is fueled by each state's legalization status, population, and more Ἴ Our sponsor @roundhill breaks down legal sports betting by state: https://t.co/enh3EP3l9j pic.twitter.com/HvfPhbvzg9 — Visual Capitalist (@VisualCap) March 14, 2023 Much of that betting was carried out over sports apps: Per VIP+, Total Wagered on Mobile Sports-Betting by State in 2022 pic.twitter.com/Qrqq4gmcoN — Jed I. Goodman © (@jedigoodman) March 20, 2023 But along with this rise in sports gambling comes serious problems among gamblers. As Newsweek magazine recently noted, calls to gambling help lines have skyrocketed. "In 2021 (the most recent year for which data is available), calls to the helpline run by the National Council on Problem Gambling, a gaming industry-supported group, rose 43 percent, while texts increased 59 percent and chats jumped 84 percent," the magazine recently reported. Newsweek also looked at other data on gambling addiction and found a troubling trend: In Connecticut, for example, helpline calls jumped 91 percent in the first year after legalization; in Massachusetts, calls are up 276 percent since 2020; in Ohio, which just opened the door to legal sports betting in January, calls to the state's problem gambling hotline tripled in the first month alone compared to the same period last year; in the first year after Virginia legalized sports gambling, calls climbed 387 percent; in Illinois, calls rose 425 percent between 2020 and 2022. It also appears that young men are hardest hit by the problems of gambling addiction.
The fastest-growing group of sports bettors—and the ones who seem to be getting into the most trouble—are typically people in their twenties, spurred by easy access on their phones and ubiquitous advertising. Young men, who are the main target audience for sports betting companies, are the most vulnerable. "We believe that the risks for gambling addiction overall have grown 30 percent from 2018 to 2021, with the risk concentrated among young males 18 to 24 who are sports bettors," said Keith Whyte, executive director of the National Council on Problem Gambling, in an interview with Pew Research last year.
The physiology of young adults, who are still a work in developmental progress, adds to the risk that sports betting will become problematic for them. Says Pamela Brenner-Davis, team leader of the New York Council on Problem Gambling, "Young people, particularly those under the age of 25, still have underdeveloped brains that make them predisposed to addiction, particularly to gambling addiction." The addiction increases depression, anxiety, and thoughts of suicide, and gamblers spiral into a personal hell that can devastate their lives.
The magazine added that other nations, including the U.K. and Australia, jumped into sports apps long before the U.S. is already starting to enact restrictions after finding a huge upswing in gambling addiction.
The U.K., for instance, recently noted that they see 400 suicides a year linked to gambling, and some 55,000 gambling addicts are young men between the ages of 11 to 16 years of age. Newsweek added that the age range is getting lower among U.S. male gambling addicts, too. As in states where online sports betting is legal, the Florida Council found that most callers who said they gamble online were male (86 percent) and the most common type of gambling for them was on sports (55 percent). It also similarly found that callers were getting younger, noting a 56 percent increase in gamblers 25 or under. Most worrisome, "This year's data reveals higher levels of anxiety (62 percent), depression (63 percent), and neurological disorders (20 percent) reported compared with HelpLine data from last year. Of significant note is that almost one-quarter (24 percent) disclosed suicidal ideations or attempts by the gambler, reflecting a 50 percent increase from the previous fiscal year." Few states that rushed to get their hands on new tax revenue took much time to consider the impact widespread gambling would have on their populations. And while the adverse effects are beginning to show, it will only get worse. Follow Warner Todd Huston on Facebook at: facebook.com/Warner.Todd.Huston, or Truth Social @WarnerToddHuston.
Read the full article at the original website
References: