Transforming adversity into an ally: A qualitative study of "feeding your demons" meditation
Contemplative science has made great strides in the empirical investigation of meditation practices, such as how mindfulness, compassion, and mantra practices impact health and well-being.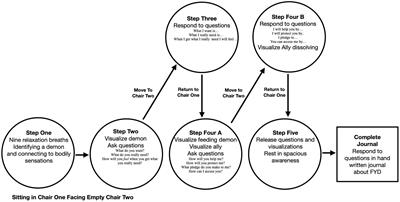 However, meditation practices from the Vajrayana Buddhist tradition that use mental imagery to transform distressing beliefs and emotions have been little explored. We examined the "Feeding Your Demons" meditation, a secular adaptation of the traditional Tibetan Vajrayana Buddhist meditation practice of Chöd ("Severance") in a pilot, randomized controlled trial in which 61 community adults from the U.S. with prior meditation experience and moderate levels of depressive and anxiety symptoms (70% female)were randomly assigned to one month (15 meditation sessions) of "Feeding Your Demons" practice or a waitlist control group. Written diary entries were collected immediately after each meditation session. We used an Interpretive Phenomenological Analysis approach to examine qualitative responses to two questions which probed (1) how participants made meaning of each meditation session and (2) how they thought it may impact their future thoughts and intentions for action. Five major themes were identified based on 20 codes developed through an inductive review of written responses across all participants.
The themes included an enhanced sense of self-worth and confidence, empathy for the "demon" or rejected parts of oneself, increased self-awareness, an active-oriented "fierce" self-compassion, and an acceptance form of self-compassion. Overall, participants expressed an ability to reframe, or transform, their relationship to distressing thoughts, emotions, and experiences as they gained personal insights, self-compassion, and acceptance through the meditation process which in turn shaped their future intentions for action in the world. This research suggests that a secular form of a Vajrayana Buddhist practice may be beneficial for Western meditation practitioners with no prior training in Vajrayana Buddhism. Future research is warranted to understand its longer-term impacts on health and well-being.
Read the full article at the original website
References: