U.N. Climate Talks Chief: World Must 'Attack All Emissions, Everywhere' (Especially Plebs with Cars)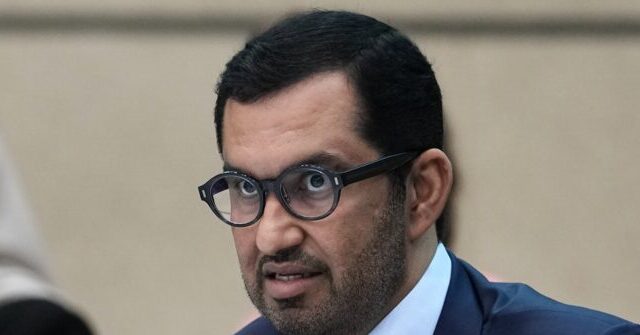 BERLIN (AP) — The head of this year's United Nations' climate talks called Thursday for governments and businesses to tackle global warming by reducing greenhouse gas emissions in all regions and sectors if they want to stop the planet from passing a key temperature limit agreed on more than seven years ago. Sultan al-Jaber of the United Arab Emirates, who also heads one of the country's state oil companies, told senior officials from Europe, Canada and China gathered in Brussels that record-breaking heat seen in parts of the world recently shows the need for urgent action to curb emissions. Laying out his strategy for the upcoming COP28 global climate talks in Dubai this fall, al-Jaber said that leaders "must be brutally honest" about what has caused the sharp rise in temperatures since preindustrial times and how to stop them from climbing further. While many fossil fuel companies have pledged to reduce direct and indirect emissions from their operations — known as scope 1 and 2 — many have refused to take responsibility for the scope 3 emissions resulting from sources they don't own or control, such as consumers using their gas.
The latter make up the majority of emissions, and cutting those effectively means reducing demand for fossil fuels. "We need to attack all emissions, everywhere. One, two and three," al-Jaber said, adding that he plans to bring together governments, major energy producers and heavy emitting industries to develop a practical plan for limiting global warming to 1.5 degrees Celsius (2.7 Fahrenheit) in line with the 2015 Paris climate accord. Scientists say achieving this target requires halving global emissions by 2030 and current efforts are far off track. Many have expressed skepticism that technological solutions touted by the fossil fuel industry and some governments can deliver the reductions necessary to meet that goal in the near term. Still, al-Jaber said the world must "use every emission-busting tool available, including nuclear, battery storage and carbon capture and removal technologies, especially for the hardest to abate sectors." He also called for a sharp increase in renewable energy production and funds to help developing countries make the transition away from polluting fuels and cope with the impacts of climate change.
The European Union's top climate official, Frans Timmermans, warned that more public and private funds are still spent on fossil fuels than on preventing and adapting to climate change. "We are subsidizing an attack on all of humanity," he said. "We're investing in a worse future, not a better one. We're paying to put our children and grandchildren in harm's way." Timmermans warned that with global warming picking up faster than feared, disrupting weather patterns across the planet and hitting the vulnerable hardest, governments need to show they have a credible plan to tackle the crisis. "The one thing we need to avoid, and we're very close, we're very close, is that our citizens fall into despair about the climate crisis," he said. Timmermans said that the EU wants to commemorate the victims of the climate crisis each year on July 15, the anniversary of a deadly flood that claimed more than 200 lives in Germany, Belgium and the Netherlands two years ago.
Read the full article at the original website
References: