AGs Raise Concerns over Insurance Companies in 'Net Zero' Alliances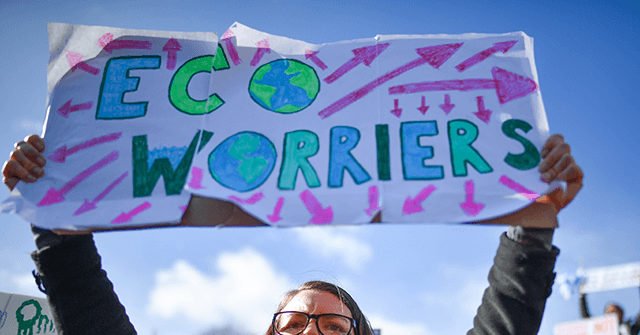 Twenty-three attorneys general sent a letter to 28 insurance companies to raise concerns over their involvement in the woke leftist climate groups Net-Zero Insurance Alliance (NZIA) and Net-Zero Asset Owner Alliance (NZAOA).
The letter, led by Utah Attorney General Sean Reyes and Louisiana Attorney General Jeff Landry, was sent Monday night to raise concerns over the insurance companies' involvement in the alliances, "each of which is a UN-convened group working to implement the Paris Agreement's climate change goals through the financial system, including the insurance industry." Attorney General of Utah Sean Reyes. (Drew Angerer/Getty Images) The attorneys general claimed that the insurance companies being a part of the climate groups has led to numerous drawbacks, such as higher insurance costs, higher gas prices, and overall inflation. In turn, the attorneys general argue that the leftist climate groups' actions could have "antitrust implications." Louisiana Attorney General Jeff Landry. (AP Photo/Melinda Deslatte) The letter stated: We, the undersigned attorneys general, are concerned with the legality of your commitments to collaborate with other insurers and asset owners in order to advance an activist climate agenda.
These actions have led to serious detrimental effects on the residents of our states.
The push to force insurance companies and their clients to rapidly reduce their emissions has led not only to increased insurance costs, but also to high gas prices and higher costs for products and services across the board, resulting in record-breaking inflation and financial hardships for the residents of our states.
These financial effects are well-known and important. ... We, the undersigned attorneys general, have serious concerns about whether these numerous requirements square with federal law, as well as the laws of our states, as they apply to private actors. Under our nation's antitrust laws and their state equivalents, it is well-established that certain arrangements among business competitors are strictly forbidden because they are unfair or unreasonably harmful to competition. For example, "an agreement among competitors not to do business with targeted individuals or businesses may be an illegal boycott, especially if the group of competitors working together has market power." Likewise, collective agreements to fix prices or "restrict production, sales, or output" are illegal. This restriction extends to agreements among competitors to issue uniform pricing policies, conditions of sale, production quotas, or otherwise limit the identity of their customers if those agreements will ultimately raise prices. In the letter, the attorneys general requested that each insurance company provide any documents and communications they have with NZIA and NZAOA to identify the relationship and the "commitments" made to them. Additionally, they are asking if there are any "limitations" the "commitments have placed on your ability to provide reinsurance, and they want to know if there are any third-party asset managers that manage the company's investment of assets." "I am concerned the Net Zero Insurance Alliance is stifling competition in Louisiana and driving up insurance costs for our consumers. We are investigating if their actions violate our antitrust and consumer protection laws," Landry said. "I will continue to defend Louisiana consumers and our State's economy from private woke imperialism. We will work tirelessly to ensure our people's hard-earned money is not used to fund the desires of climate control charlatans." Reyes said, "The ESG movement has spread to every corner of the world's financial and energy sectors, and unsuspecting Americans are paying the price. Insurers have an obligation to protect the interests of their clients, not advance a radical environmental agenda." WATCH: Climate Activists SMEAR Red and Black Paint All Around Famous Sculpture at National Gallery of Art: The list of insurance companies that received the letter were Achmea, a.s.r., Aviva, AXA – Global Healthcare, Beazley Group, Beneva Inc., Catalana Occidente Insurance Group, Crédit Agricole Assurances, Fidelis Insurance Group, Generali Group/Generali USA, Hellenic Hull Management, ICEA Lion Group, IAG, Intesa Sanpaolo Vita, KB Insurance, Lloyd's, MAPFRE, Matmut, MS&AD Insurance Group Holdings, Inc., NN Group N.V., QBE Insurance Group Limited/QBE North America, Samsung Fire & Marine Insurance Co., Ltd., SCOR, Shihan Life Insurance Co., Ltd., Sompo Holdings, Inc., Swiss Re Group, and Tokio Marine Holdings, Inc. Joining Reyes and Landry on the letter, the 21 other state attorneys general were from Alabama, Alaska, Arkansas, Georgia, Idaho, Indiana, Iowa, Kansas, Kentucky, Mississippi, Missouri, Montana, New Hampshire, Ohio, Oklahoma, South Carolina, South Dakota, Texas, Virginia, West Virginia, and Wyoming.insuranceclimate Jacob Bliss is a reporter for Breitbart News. Write to him at jbliss@breitbart.com or follow him on Twitter @JacobMBliss.
Read the full article at the original website
References: