California Raises Water Allocation to 35% as More Snow, Rain Arrive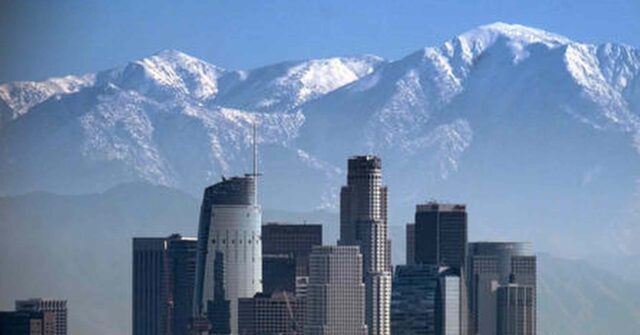 The California Department of Water Resources announced Wednesday that it is boosting its water allocations to 35% of the amounts requested by local agencies, up from 30%, as more rain and snow arrive in the state. A month ago, as Breitbart News reported, the allocation was boosted from a scant 5% up to 30%, in response to a slew of "atmospheric rivers" that hit the state from the last week of December through the middle of January. Now, the Sacramento Bee reports, the continued arrival of storms, blanketing the state with water and dumping large piles of snow on the mountains, has given state water officials even more confidence: The California Department of Water Resources on Wednesday announced that the State Water Project, which stores and delivers water to 29 water agencies that serve 27 million Californians, will be able to deliver 35% of water supply requested this year by those agencies. ... Even with the allocation increase, state water officials warn that it is still very early in the year, and too soon to declare an end to California's ongoing drought, which is now in its third year. ... California's two largest reservoirs included in the State Water Project, Lake Oroville and the San Luis Reservoir, gained a combined 1.62 million acre-feet of water during the stretch of December and January storms, state water officials said.
The water agencies affected include rural, agricultural districts as well as large metropolitan water utilities.
The state is currently experiencing another wave of storms, with cold weather allowing snow to accumulate even at low elevations. Snow is anticipated in the hills around San Francisco on Thursday, and possibly within the city; Los Angeles is bracing for blizzard conditions and large amounts of snow on mountains near the city. Joel B. Pollak is Senior Editor-at-Large at Breitbart News and the host of Breitbart News Sunday on Sirius XM Patriot on Sunday evenings from 7 p.m. to 10 p.m. ET (4 p.m. to 7 p.m. PT). He is the author of the new biography, Rhoda: 'Comrade Kadalie, You Are Out of Order'. He is also the author of the recent e-book, Neither Free nor Fair: The 2020 U.S. Presidential Election. He is a winner of the 2018 Robert Novak Journalism Alumni Fellowship. Follow him on Twitter at @joelpollak. .
Read the full article at the original website
References: