California's Last Nuclear Plant Could be Forced to Close, Despite Newsom's Extension
Diablo Canyon, the last operational nuclear power plant in California, could be forced to shut down by 2025 despite a five-year extension signed by Gov.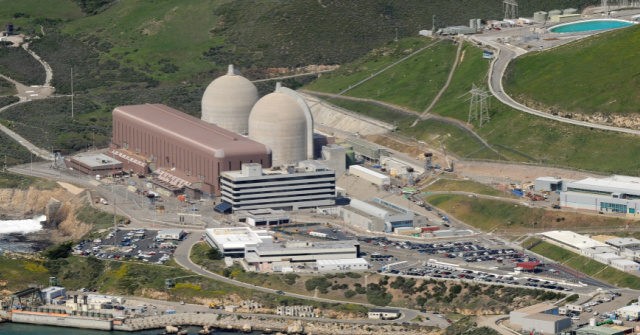 Gavin Newsom (D), leaving the state potentially short of power. On Tuesday, the federal Nuclear Regulatory Commission (NRC) rejected an effort by the Pacific Gas & Electric Company to reinstate permit applications that it had withdrawn. Its current permits expire in 2024 and 2025 for each of the two reactors in the plant, and new applications could take months. CBS News reported: The decision marks the latest skirmish in a long-running fight over the operation and safety of the decades-old Diablo Canyon plant, which Gov. Gavin Newsom says should keep running beyond a scheduled 2025 closure to ward off possible blackouts as the state transitions to solar and other renewable sources. In October, Pacific Gas & Electric asked the Nuclear Regulatory Commission to resume consideration of an application initially submitted in 2009 to extend the plant's life, which later was withdrawn after PG&E in 2016 announced plans to shutter the reactors. Under existing rules, the operating licenses for the sister reactors expire in 2024 and 2025, at which time they would be forced to close. Last year, Newsom reversed his long-standing opposition to nuclear power and successfully urged the state legislature to vote to extend the plant's operating life to 2030. California Gov. Gavin Newsom looks on during a visit the Antioch Water Treatment Plant on August 11, 2022 in Antioch, California. California Gov. Gavin Newsom visited a desalination plant that is under construction at the Antioch Water Treatment Plant where he announced water supply actions that the state is taking to adapt to hotter, drier conditions caused by climate change. (Photo by Justin Sullivan/Getty Images) The reason: after several electricity shortages, Newsom and the Democrats, who have set the goal of zero net carbon emissions by 2045, were wary of losing 6% of the state's electricity supply, given that solar and wind power have been incapable of filling the gap. Environmental groups were elated by the NRC's decision, with Environmental Working Group (EWG) attorney Caroline Leary declaring in a statement: ""It's not too late for the California Legislature to re-direct the billion dollars slated for revival of these unsafe and uneconomical reactors to the support of safe and renewable alternative energy sources such as solar and wind power, energy efficiency and load management." Joel B. Pollak is Senior Editor-at-Large at Breitbart News and the host of Breitbart News Sunday on Sirius XM Patriot on Sunday evenings from 7 p.m. to 10 p.m. ET (4 p.m. to 7 p.m. PT). He is the author of the new biography, Rhoda: 'Comrade Kadalie, You Are Out of Order'. He is also the author of the recent e-book, Neither Free nor Fair: The 2020 U.S. Presidential Election. He is a winner of the 2018 Robert Novak Journalism Alumni Fellowship. Follow him on Twitter at @joelpollak..
Read the full article at the original website
References: