Dollar Tree Pulls Eggs from Shelves as Prices Soar in Biden's Economy
Dollar Tree has pulled eggs from its shelves as prices skyrocketed approximately 60 percent since the fall, the news coming as people struggle to make ends meet in President Joe Biden's (D) economy.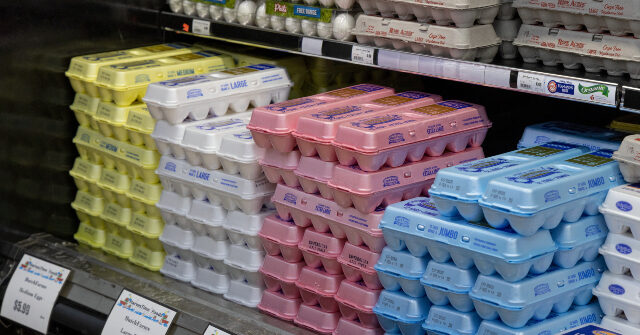 "The chain, which is increasingly a go-to grocery destination for cash strapped shoppers, has roughly 8,000 Dollar Tree stores across the United States and Canada. Its spokesperson said it does not anticipate being able to bring eggs back into its stores for sale until later this fall," Reuters reported Tuesday.
The price for eggs hit an average of $5 a dozen during the first month of this year, and the price hike was due to a global outbreak of the avian flu. Egg prices so high, Dollar Tree pulls them from shelves completely https://t.co/grLGgKf047 pic.twitter.com/ZY09vOCSF4 — New York Post (@nypost) March 20, 2023 One social media user commenting on the news wrote, "Going to have to rename it 5 dollar tree at this rate." "Build back better," another person commented in what appeared to be a reference to Biden's so-called plan to "rebuild the middle class." Meanwhile, consumer pricing data from the government reportedly said egg prices dropped 6.7 percent last month. "Our primary price point at Dollar Tree is $1.25.
The cost of eggs is currently very high," the company's spokesperson, Randy Guiler, told reporters, adding the store will begin selling eggs again when "costs are more in line with historical levels," per the Washington Examiner. Joe Biden: 'Main Driver of Food Prices' Is Packaged Goods The outlet noted the price for eggs may jump again in April due to the Easter holiday. In February, Breitbart News reported that data showed egg prices rose by 70 percent in January: With many consumer categories still being hit hard by inflation, new data from the Bureau of Labor Statistics revealed on Tuesday that inflation for eggs had jumped 8.5 percent from December to January and a total of 70.1 percent year over year (since last January). ... Besides the prices of eggs rising like the rest of food products, CNBC noted that the higher egg prices are largely due to the deadly outbreak of bird flu in the U.S. CNBC further noted that the disease, a highly pathogenic avian influenza, has killed a record number of birds throughout 2022 and has continued into this year — which also coincided with the winter holidays where eggs are in high demand for all the seasonal cooking and baking. When asked in January if customers were upset over the high cost of eggs, Morton Williams Supermarket Manager Danny Cowan told Inside Edition, "I think they're concerned." The outlet said Eileen's Special Cheesecake in New York City was also hurting over the issue because eggs are an essential ingredient in its offerings. According to an employee, the business uses thousands of eggs on an average day: She said there were things they could do to save and cut corners, but they were not going to resort to those options because it would have an affect on their product. "We did raise our prices a little bit," she explained.
The outlet noted that since 2022, the average cost of a dozen eggs went from $1.47 to $3.60, per the outlet's January report.
Read the full article at the original website
References: