GOP, Dems Seek to Reverse Biden's 'Unconscionable' Tariff Waivers for China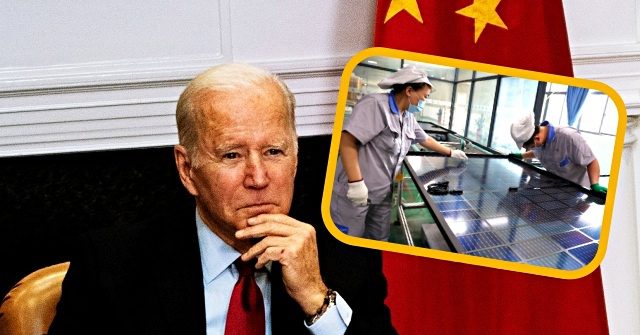 House Republicans and Democrats are looking to reverse President Joe Biden's tariff waivers for suspected Chinese companies that are reportedly funneling their solar panels through other countries to evade United States trade rules. In June 2022, Biden announced a 24-month tariff moratorium on solar panel imports from Cambodia, Thailand, Vietnam, and Malaysia. Commerce Department officials suspect that the solar panels are actually made in China or by Chinese companies but have been routed through the four southeast Asian nations to evade tariffs.
The tariff moratorium came even as Biden's Commerce Department found that BYD Hong Kong rerouted its production through Cambodia, Canadian Solar and Trina through Thailand, and Vina Solar through Vietnam to specifically evade U.S. tariffs on China-made solar panels. Already, about 80 percent of solar panels installed in the U.S. are made in China or by Chinese companies. Last week, Rep. Bill Posey (R-FL) and Dan Kildee (D-MI) — joined by Bill Pascrell (D-NJ), Garret Graves (R-LA), Terri Sewell (D-AL), and Bob Latta (R-OH) — introduced legislation that would reverse the tariff waivers. "The Communist Party of China should not be allowed to circumvent our trade laws and undercut American manufacturing," Posey said in a statement: Our federal government should be getting behind American businesses and leading the effort to boost our competitiveness around the world, especially when it comes to our nation's energy independence. [Emphasis added] The legislation would use the Congressional Review Act to allow lawmakers to rescind Biden's tariff moratorium which was finalized as a Commerce Department regulation in late 2022. "We cannot allow foreign solar manufacturers to violate trade law, especially when it comes at the expense of American workers and businesses," Kildee said. "The Biden administration found in its own investigation that China is evading U.S. tariffs on solar imports, but has paused action on this matter, which is unacceptable." Michael Stumo with the Coalition for a Prosperous America praised the legislation: This bipartisan legislation is an important win for the rule of law, American manufacturers, and the tens of thousands of workers that they employ ... it is unconscionable that President Biden undermined the independent, judicial investigation by Commerce, which has already found preliminarily that the Chinese are illegally circumventing AD/CVD duties. [Emphasis added] Biden's solar panel tariff moratorium came after intense lobbying from the Solar Energy Industries Association (SEIA) which has been revealed to be representing Chinese solar companies, some of which are accused of using forced slave labor in Xinjiang. From 2001 to 2018, U.S. free trade with China eliminated 3.7 million American jobs from the economy — 2.8 million of which were lost in American manufacturing. During that same period, at least 50,000 American manufacturing plants closed down. Those massive job losses have coincided with a booming U.S.-China trade deficit. In 1985, before China entered the WTO, the U.S. trade deficit with China totaled $6 billion. In 2019, the U.S. trade deficit with China totaled more than $345 billion. While skyrocketing U.S. trade deficits have led to devastation across America's working and middle-class communities over the last two decades, tariffs would be a boon for reshoring jobs and boosting wages, studies show. A recent study from economists at the Coalition for a Prosperous America, for instance, finds that tariffs on nearly all foreign imports would create about 10 million American jobs while boosting domestic output. John Binder is a reporter for Breitbart News. Email him at jbinder@breitbart.com. Follow him on Twitter here. .
Read the full article at the original website
References: