Joe Biden Issues First Veto to Reject Bill Reversing ESG Rule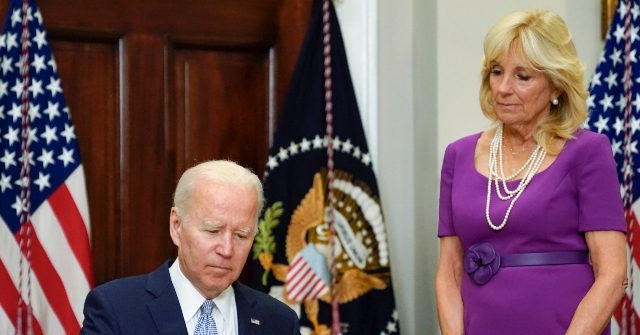 President Joe Biden issued his first veto on Monday, rejecting a bipartisan bill that would have reversed his Labor Department rule allowing left-wing environmental, social, and governance (ESG) policies to be considered in retirement investing. "I just vetoed my first bill," Biden said in a tweet announcing the move. "This bill would risk your retirement savings by making it illegal to consider risk factors MAGA House Republicans don't like," Biden claimed. "Your plan manager should be able to protect your hard-earned savings — whether Rep. Marjorie Taylor Greene likes it or not." The legislation Biden referred to was H.R. 30, a Congressional Review Act (CRA) resolution that would nullify Biden's Labor Department ESG rule. Ultimately, the rule enables fund managers to weigh climate change and prioritize ESG initiatives, a form of leftist activism in financial investing, when selecting retirement investments and exercising shareholder rights, such as proxy voting. It was also a rollback of a rule made under former President Donald Trump to protect Americans' retirement plans.
The legislation passed the Republican-controlled House of Representatives and the Democrat-controlled Senate to get to the president's desk. In the Senate, Democrat Sens. Joe Manchin (WV) and Jon Tester (MT) joined Republicans in passing the legislation opposing Biden's Labor Department policy. Before Biden officially vetoed the legislation, the White House said the president would reject it if it were to pass Congress.
The House has already scheduled a vote to override Biden's veto on March 23; however, with the slim majority in Congress, it is unlikely that Congress can override Biden's veto since it would require two-thirds support from both chambers. Following the veto, West Virginia state Treasurer Riley Moore — who has been leading the charge on the state level against ESG rules — slammed the president for making it "clear" that he "stands with the woke capitalists and their radical globalist agenda instead of the best interests and financial security of the American people." "A bipartisan majority in Congress spoke loud and clear that they thought this rule was harmful and went too far, yet President Biden chose to ignore the will of the people's elected representatives," Moore further explained. "Congress is supposed to write the laws in this country, not unelected agency bureaucrats serving deep-state agendas." "This rule will allow Wall Street elites to use the pension and retirement plans of millions of hard-working Americans to advance left-wing social agendas that undermine our citizens' values and way of life," the state treasurer added. Jacob Bliss is a reporter for Breitbart News. Write to him at jbliss@breitbart.com or follow him on Twitter @JacobMBliss.
Read the full article at the original website
References: