Russia Remained Germany's Top Coal Supplier Despite EU Sanctions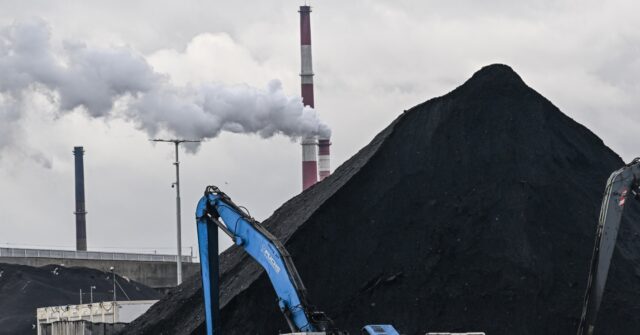 Russia maintained its position as the largest supplier of coal to Germany last year, despite Berlin's supposedly being on the opposite side of the war in Ukraine, as well as the government's far-left climate goals. According to analysis from the German Coal Importers Association (VDKi), Germany actually increased its foreign coal purchases by eight per cent last year, totalling some 44.4 million tonnes of coal imports. While the coalition government led by Social Democrat Olaf Scholz has made much hullabaloo over its reduction of Russian gas imports — which is less impressive considering that it was Moscow who reduced flows through the Nord Stream 1 pipeline prior to its being sabotaged, dubiously citing maintenance issues after EU sanctions were levied — Russia remained the top supplier of foreign coal to the country, the Bild newspaper reported. In total, Russia sent some 13 million tonnes to Germany in 2022, a fall of 37 per cent over the previous year, but still representing nearly one-third of all imports. Russia was followed by the United States, at 9.4 million tonnes, and Colombia at 7.2 million tonnes.
The Russian import figures are more impressive given the fact that the EU actually banned coal from the country in August of last year over the war in Ukraine, meaning that it still represented Germany's top supplier despite trade only being open for eight months. In contrast to the country's supposed green credentials, Germany emitted an additional 164 million tonnes of extra carbon dioxide last year as a result of the increased coal use.
The spike was likely much higher in reality, however, given that this figure included calculations from the government taking into account their plans to move up their planned ban on coal to 2030 in order to offset some of the current emissions. Meanwhile, thousands of Germans descended upon the Brandenburg Gate in Berlin to protest the continued military support of Ukraine and demanded that the West finally starts to try to engage in peace negotiations with the Kremlin. According to a Bild report, police estimated that at least 10,000 people attended the rally, however organisers for the anti-war protest claimed that upwards of 50,000 were among their ranks.
The large numbers came despite wintery conditions, with the German capital being subject to sleet over the weekend. Sahra Wagenknecht, a member of the Bundestag for The Left party, said at the rally that calling for an end to arms deliveries and demands for peace negotiations are not only about ending the "terrible suffering and dying in Ukraine" but also about preventing the war from spreading to "the whole of Europe and possibly the world". BERLIN, GERMANY – FEBRUARY 25: Protesters for peace negotiations with Russia and against weapons shipments to Ukraine take part in a demonstration in front the Brandenburg Gate on February 25th, 2023 in Berlin, Germany. Related protests and gatherings are taking place in Berlin, some urging more Western military support for the Ukrainian military and some demanding negotiations rather than weapons. Russia's ongoing military campaign in Ukraine shows little sign of stopping anytime soon, despite the massive toll in men and equipment so far. For Ukraine the war has left no corner of the country untouched, with millions of people displaced, cities in the east in ruins and at least tens of thousands of people killed. (Photo by Steffi Loos/Getty Images) Despite growing dissatisfaction with the war, which has entered into its second year, the German government, like its counterparts in London, Paris, and Washington, seem intent on escalating, with Berlin being set to deliver main battle tanks to the conflict zone and lobbying other countries to do the same ahead of an expected Spring offensive from the Russian army. Demonstrating the left-liberal government's steadfast stance on the war, foreign minister Analena Baerbock said in September that said that they would be willing to support Ukraine for years "no matter what my German voter thinks". Follow Kurt Zindulka on Twitter here @KurtZindulka.
Read the full article at the original website
References: