Hawley Introduces 'PELOSI Act' to Ban Congress from Trading Stocks
Sen.Josh Hawley (R-MO) has introduced the "PELOSI Act" which would ban members of Congress, as well as their family members, from holding or trading stocks.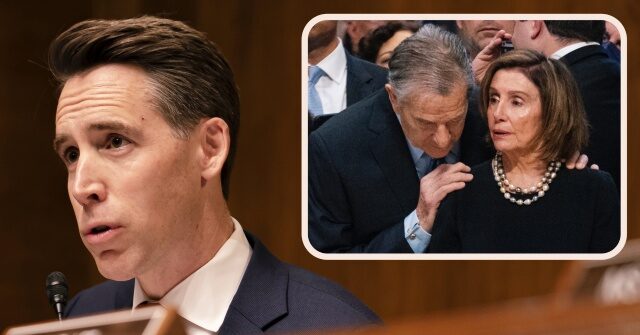 .
The legislation, known as the Preventing Elected Leaders from Owning Securities and Investments (PELOSI) Act, references former House Speaker Nancy Pelosi (D-CA) who was called out last year after her husband, Paul Pelosi, bought up to $5 million in stock in a semiconductor company right as the Senate was passing legislation to massively subsidize the semiconductor industry. Pelosi was also among a group of Republicans and Democrats who beat the market in 2021 with hundreds of millions of dollars in stock trades. Others who faired the best include Reps. Austin Scott (R-GA), Brian Mast (R-FL), French Hill (R-AR), John Curtis (R-UT), and Dan Crenshaw (R-TX). Hawley, who introduced similar legislation last year, said the practice must end. "For too long, politicians in Washington have taken advantage of the economic system they write the rules for, turning profits for themselves at the expense of the American people," Hawley said in a statement. "As members of Congress, both Senators and Representatives are tasked with providing oversight of the same companies they invest in, yet they continually buy and sell stocks, outperforming the market time and again," he continued. 🚨BREAKING NEWS🚨 I have just released the full trading report on politicians in 2021. In short, many beat the market.
They traded more than ever before. And they made numerous unusually timed trades, resulting in huge gains. Read it here: https://t.co/CQ6JphecwZ pic.twitter.com/ra9DEjV0ok — unusual_whales (@unusual_whales) January 10, 2022 Hawley's PELOSI Act would ban members of Congress and their spouses from holding, acquiring, or selling stocks while in office.
The legislation gives members and their spouses six months after taking office to divest stocks they hold or put them in a blind trust. If members of Congress or their spouses are found to be in violation of the legislation's rules, they would have to forfeit any profits to the United States Treasury. Violators would also be prohibited from deducting those losses on their income taxes.
The legislation gives the House and Senate ethics committees full power to fine members of Congress for such violations and would be required to publicize them to the American people. In accordance with the bill, the Government Accountability Office (GAO) would be required to audit members of Congress to ensure they are complying with the rules. "While Wall Street and Big Tech work hand-in-hand with elected officials to enrich each other, hardworking Americans pay the price," Hawley said. "The solution is clear: we must immediately and permanently ban all members of Congress from trading stocks." Banning members of Congress and their family members from trading stocks is hugely popular among likely American voters. Last year, a Trafalgar Group survey revealed that 76 percent believe Congress has an "unfair advantage" when it comes to the stock market. Only five percent support permitting congressional stock trading. John Binder is a reporter for Breitbart News. Email him at jbinder@breitbart.com. Follow him on Twitter here.
Read the full article at the original website
References: