Oil Prices Soar to Highest Level in 10 Months, Threatening More Pain at the Pump
Oil prices moved sharply higher on Thursday as OPEC said it expected demand to remain high this year and next—and the Biden administration continued its policies smothering U.S.production.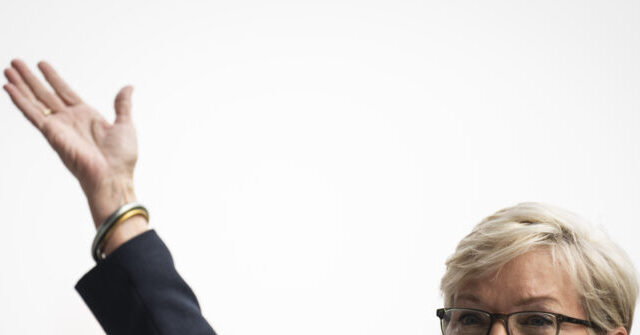 .
The price of November Brent crude futures, the global benchmark for oil prices and the price most closely linked to gasoline prices in the U.S., rose by around 1.5 percent on Tuesday morning before prices moderated to around a 1.3 percent gain. At their high Tuesday morning, Brent futures hit $92.31 a barrel, the first time prices have risen above $92 since last November. U.S. West Texas Intermediate crude futures were up an even sharper 1.75 percent, hitting $89.18 a barrel at their high. This is also the highest price since November. Brent crossed the $90 a barrel threshold for the first time in 10 months last week. This followed the announcements by Saudi Arabia and Russia that they would extend their voluntary supply cuts until the end of the year. On Tuesday, OPEC said resilient economic growth despite interest rate hikes is expected to support the growth of demand for oil this year and next. U.S. economic growth has proven to be much stronger than expected this year, defying predictions that the economy would fall into a recession due to tighter monetary policy and a fading of post-pandemic demand surges. Higher oil prices have pushed up the prices of gasoline. On Tuesday, the national average price for a gallon of regular gas was $3.836, up from $3.811 a week ago and $3.716 at this time last year, according to AAA. California has some of the highest prices in the U.S. On Tuesday, the California average rose to $5.464 from $5.439 on Monday. Last week, the average was $5.326. A month ago, prices averaged $5.130. One year ago, the average price was $5.405.
The Midwest is seeing a huge surge in gasoline prices. Prices in Iowa, for example, are up to $3.930 from $3.549 a week ago. Last week, the Biden administration canceled the seven remaining oil and gas leases in Alaska's Arctic National Wildlife Refuge, reversing a Trump administration policy that expanded oil production in the area. Biden also proposed more stringent restrictions on development in vast swaths of the National Petroleum Reserve-Alaska. Republicans have criticized Biden's record on fossil fuel policy, pointing out that it is restricting production at a time of high demand, making the U.S. more vulnerable to policy choices in Moscow and Riyadh, and undermining energy investment. .
Read the full article at the original website